4 Reasons To Snack On Almonds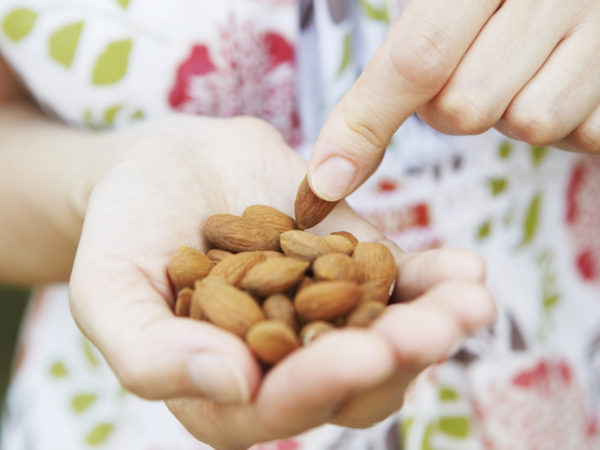 Dr. Weil and his Twitter account has been nominated for a Shorty Award for the best in social media, as a global influencer in Health and Wellness! Lend your support by voting on his behalf and following him on Twitter!
Some of the best snacks you can enjoy (in moderation) are nuts, and almonds in particular. The benefits are plentiful – almonds contain:
Monounsaturated fats that may help reduce the risk of heart disease
Protein to provide sustained energy
Calcium for strong and healthy bones
Magnesium, which promotes normal blood pressure and healthy metabolism
Dr. Weil recommends unsalted or low-salt almonds that are raw or dry-roasted as a staple in your pantry. Toss almonds in a salad, a low to no added sugar granola or yogurt; chop finely to use in a marinade or as a coat for tofu "burgers"; consider using almond flour as a replacement for flour in baking; or simply enjoy them on their own! You can also try almond butter, a healthy alternative to traditional peanut butter – spread it on a sandwich or use as a dip with carrot and celery sticks.
Today's Health Topics
Editor's Pick
Health Focus
Ask Dr. Weil's Q&A
Want To Eat More Produce? Try This
Vegetables and fruit are important to overall health, in particular to a healthy heart.
Dr. Weil on Healthy Aging
can help make eating your five to seven servings a day easy: we have hundreds of recipes that heavily feature produce, prepared in ways that everyone will enjoy. Begin eating heart healthy today -
start your free trial now and save 30% when you join!