Moderate Drinking And Healthy Aging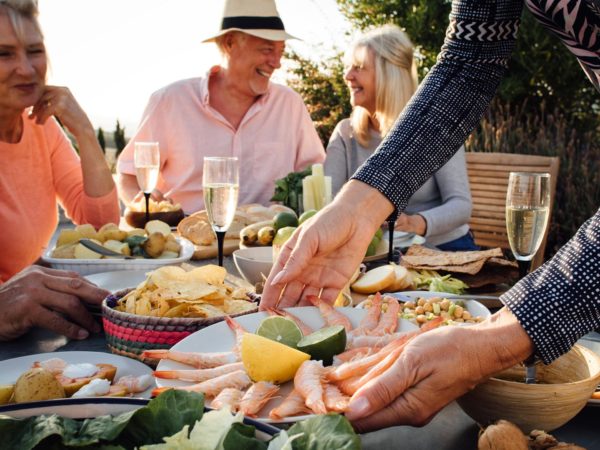 A daily alcoholic drink or two might help you live to 85 or older and keep your wits about you. A new study from the University of California San Diego School of Medicine found that seniors whose alcohol consumption was moderate were twice as likely to remain cognitively healthy compared to non-drinkers. The researchers said the 29-year-long study doesn't suggest that drinking is responsible for the longer lives and healthy minds seen among the 1,344 participants. They noted that alcohol consumption – particularly wine – is linked with higher incomes and education, which in turn are associated with less smoking and mental illness and better access to health care. The researchers assessed the cognitive health of the participants every four years with a standard dementia screening test. More than 99 percent of the participants were white with at least some college education and lived in a middle-to-upper-middle-class San Diego County suburb. The researchers defined moderate drinking as one alcoholic beverage daily for women and for men age 65 and older. They viewed heavy drinking as more than three alcoholic beverages daily for women of any age and for men 65 and older; and four drinks a day for men under 65.
My take? We've known for some time that moderate drinking – up to two alcoholic drinks per day – may reduce an older person's risk of developing dementia, including Alzheimer's disease. A study from the Netherlands showed that it doesn't matter what you drink – wine, beer, liquor or a fortified wine such as sherry (however, here no such protective effect was seen among heavy drinkers – those who consumed four or more drinks per day). Moderate drinking also appears to protect against coronary artery disease and heart attack. My feeling is that if you don't drink alcohol, you certainly shouldn't start for health reasons. You can reduce your risks of heart disease via diet and exercise, and evidence suggests that we may be able to protect against Alzheimer's and other forms of dementia by "exercising" our minds. My own drinking habits are quite modest. I enjoy premium Japanese sake occasionally and, less often, a glass of good wine. Otherwise I am more likely to drink water or tea.
Source:
Linda K. McEvoy et al, "Alcohol Intake and Cognitively Healthy Longevity in Community-Dwelling Adults: The Rancho Bernardo Study." Journal of Alzheimer's Disease, July 29 2017, DOI: 10.3233/JAD-161153
Also in this week's bulletin: