Acupuncture For Carpal Tunnel Syndrome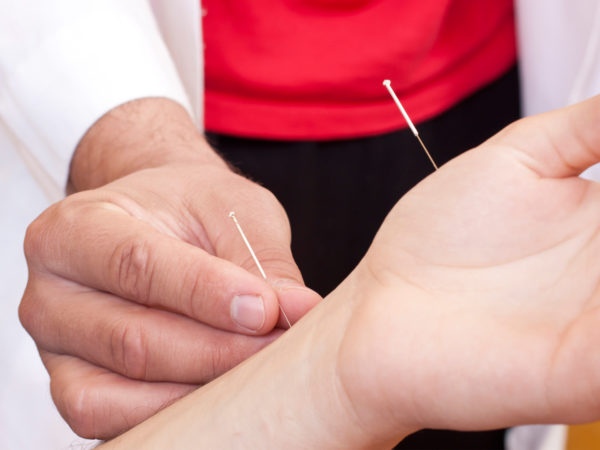 Although often considered only after medications have failed, acupuncture may be the treatment you should try first to address the wrist pain caused by carpal tunnel syndrome. A study published in March (2017) in the journal Brain found that acupuncture led to long-term improvement in symptoms, as well as to changes in pain centers in the brain that may explain why the treatment worked so well. Researchers at Massachusetts General Hospital tested acupuncture and sham acupuncture on 80 people with mild or moderate carpal tunnel syndrome. They randomized the participants to three3 groups – one received acupuncture on the affected wrist; the second experienced the treatment on the ankle opposite the affected wrist; and members of the third group were subjected to sham acupuncture near the affected wrist. All treatments were administered twice a week for eight weeks, and the researchers used functional MRI and nerve conduction tests to measure the effect on the brains and nerves of the volunteers. These imaging studies, performed prior to as well as after the eight weeks of treatment revealed improvements in the nerve and brain pain centers only in participants who received the real acupuncture. All the patients reported pain relief, but the changes observed with the real acupuncture were associated with positive alterations in the brain and nervous system that correlated with pain relief through the three months of follow up. 
Source:
Vitaly Napadow et al, "Rewiring the primary somatosensory cortex in carpal tunnel syndrome with acupuncture." Brain, March 2, 2017, DOI: http://doi.org/10.1093/brain/aw015 Brain awx015. DOI: doi.org/10.1093/brain/awx015 Published: 02 March 2017 Article history
Also in this week's bulletin:
Interested in expanding your knowledge on the latest in nutrition, healthful living and integrative medicine from internationally recognized experts including Andrew Weil, M.D., Donald Abrams, M.D., Victoria Maizes, M.D., Clint Woods, and more? Learn more about the 14th annual Nutrition Conference, Nutrition & Health: State of the Science and Clinical Applications, held May 1-3, 2017, at the Arizona Biltmore Hotel in Phoenix, Arizona.