How Home Cooking & Television Affect Weight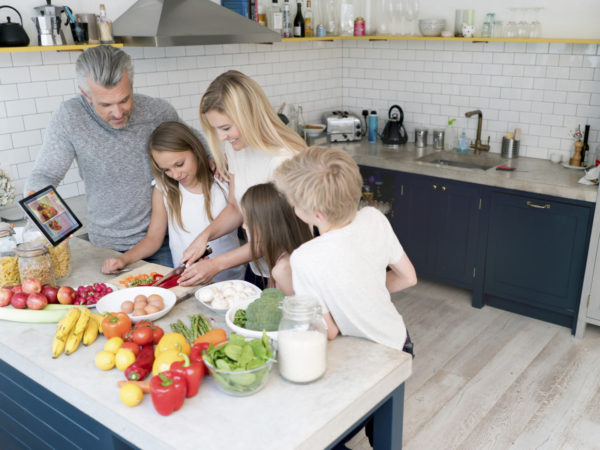 If you cook all your family meals at home, you may be 26 percent less likely to be obese than those who don't prepare meals at home or who do so less often. And if you never watch television during your meals, chances are you're 37 percent less likely to be obese than those who eat with the TV on. These conclusions come from researchers who surveyed 12,842 Ohio residents to elucidate their mealtime habits and determine how their cooking and screen time relate to their weight. All the survey participants reported having eaten at least one meal as a family in the week before they responded. The survey showed that 52 percent of the participants ate family meals at home six or seven days a week, while 35 percent did so every other day and 13 percent ate at home with their families only once or twice a week. About one-third of the participants reported watching television during most or all of their family meals; another 36 percent didn't watch TV at all while eating. The survey also showed that 62 percent of the respondents reported that all the family meals they ate were cooked at home. The researchers collected height and weight information from all the survey participants in order to determine how many were obese and to compare those findings with the mealtime habits reported.
Source:
Rachel Tumin and Sarah E. Anderson, "Television, Home-Cooked Meals, and Family Meal Frequency: Associations with Adult Obesity." Journal of the Academy of Nutrition and Dietetics, March 2017, DOI: dx.doi.org/10.1016/j.jand.2017.01.009
Also in this week's bulletin:
Interested in expanding your knowledge on the latest in nutrition, healthful living and integrative medicine from internationally recognized experts including Andrew Weil, M.D., Donald Abrams, M.D., Victoria Maizes, M.D., Clint Woods, and more? Learn more about the 14th annual Nutrition Conference, Nutrition & Health: State of the Science and Clinical Applications, held May 1-3, 2017, at the Arizona Biltmore Hotel in Phoenix, Arizona.