Worried About Oral Cancer?
Published: 07/17/2013
Learn More:
Light Therapy
Related:
Wellness Therapies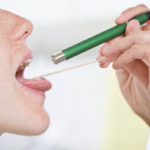 According to the American Cancer Society, over 35,000 Americans have oral cancer. The risks are higher if you are a male, over the age of 35, or have a history of other cancers, but there are some lifestyle habits that increase anyone's risk, and some steps you can take:
Don't use tobacco. Up to 90% of patients with oral cancers use tobacco, and the risk increases with the amount smoked or chewed. Quitting smoking and chewing tobacco will lower your risk, even after years of use.
Moderate your drinking. About 75% to 80% of all patients with oral cancer drink alcohol frequently.
Limit your exposure to sunlight. More than 30% of patients with cancers of the lip have outdoor jobs associated with prolonged and repeated exposure to sunlight.
Eat plenty of fruits and vegetables. A diet low in the natural antioxidants fresh produce provides is associated with an increased risk of developing cancer of the oral cavity.
Know the signs. If you have a sore in your mouth that doesn't heal easily or is always bleeding, or a persistent pain in the mouth or ear, see your dentist or physician immediately. Early detection and treatment increases chances of recovery.
A cup of joe? In 2012, the American Cancer Society found a link between drinking coffee and reduced risk of death from oral/pharyngeal (mouth and throat) cancer. It showed drinking more than 4 cups of caffeinated coffee a day cut the likelihood of dying from oral/pharyngeal cancer in half. However, I don't recommend drinking coffee if you don't enjoy it, or dislike the effect it has on your nervous system or digestion.
Find out which vitamins are right for you.
Everyone's dietary needs are different based on a number of factors including lifestyle, diet, medications and more. To find out
what vitamins you need
, take the
Weil Vitamin Advisor
. This 3-step questionnaire requires just minutes to complete, and generates a free, no-obligation vitamin and nutritional supplement recommendation that is personalized to meet your unique nutritional needs.
Natural Healing Orthotic Sandals
Dr. Weil recommends footwear and orthotic insoles incorporating Orthaheel technology, a science-based platform that can help relieve common foot, ankle and knee pain. Orthaheel's podiatrist-designed sandals provide natural support and comfort without compromising style. Visit Orthaheelusa.com today to see our summer sandal collection for women and men.