Why You Should Be Eating Beets
Published: 07/12/2013
Learn More:
Exercise: Indoor or Out?
Related:
Exercise & Fitness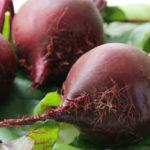 If you are looking for something delicious and healthy in the produce aisle – pick up some beets. A tasty addition to any meal, beets are a good source of folate, manganese, potassium, fiber and vitamin C – nutrients that help protect against heart disease, birth defects, and certain cancers. While these root vegetables are known for their purple-red color, beets come in other hues, including white and golden-yellow. Their sweet, earthy flavor is wonderful in salads, on a cheese plate, or pureed in a cool, summer soup. When preparing red beets, don't peel them until after cooking – leaving the skin in place will help them to retain their color and discourage "bleeding."
Learn how to prepare beets – watch Dr. Weil in this video, "Making Roasted Beets in Agrodolce."
Also try our Robust Beet Salad recipe!
Find out which vitamins are right for you.
Everyone's dietary needs are different based on a number of factors including lifestyle, diet, medications and more. To find out
what vitamins you need
, take the
Weil Vitamin Advisor
. This 3-step questionnaire requires just minutes to complete, and generates a free, no-obligation vitamin and nutritional supplement recommendation that is personalized to meet your unique nutritional needs.
Vital Choice Wild Seafood & Organics
Vital Choice's wild Alaskan salmon is recommended by Dr. Weil because of its rich nutritional content and exceptional taste. As the leading source for fast home delivery of the world's finest wild seafood, whole-food supplements, and fine organic fare, Vital Choice is committed to serving the best. Quality foods that are the purest available and always sustainably harvested. Shop Vital Choice now – and sign up for Vital Choices, our free e-newsletter with up-to-the-minute health news, recipes, and exclusive special offers.