Want to Try A Cleanse?
Published: 06/24/2013
Learn More:
Bikram Yoga: Too Hot to Handle?
Related:
Exercise & Fitness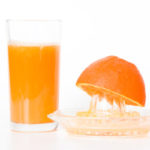 Even though the body has sophisticated processes to keep the digestive tract healthy – especially if you support it with good nutrition, regular exercise and other healthy habits – many people are still interested in an intestinal cleanse. Instead of trying one of the trendy, dubious methods that are advertised online, I suggest a daylong or weekend "juice fast" plus some powdered psyllium seed husks to give your intestines bulk. A juice fast can be healthful and is simple to do:
Juice: Drink at least four 8- to 12-ounce glasses of juice daily, plus at least four 8-ounce glasses of water and, if you like, some unsweetened herbal tea. If possible, prepare the juice yourself from organically grown fruits and vegetables. One combination I like is apple, carrot and lemon juice, diluted with plain or sparkling water. If you can't make your own juices, buy natural ones without added sugar and dilute them to taste with water.
Psyllium Seeds: Stir one tablespoon of psyllium powder (available at health food stores) into a big glass of water, drink it, then drink another glass of plain water. Do this once a day, preferably in the morning.
While you fast, take 100 mg of vitamin C twice a day, but skip your other supplements. A daily sauna or steam bath can help the body eliminate unwanted materials through sweating (be sure to drink extra water during and after). Also be sure to eat lightly and carefully when you end your fast in order to transition back to your normal diet.
Find out which vitamins are right for you.
Everyone's dietary needs are different based on a number of factors including lifestyle, diet, medications and more. To find out
what vitamins you need
, take the
Weil Vitamin Advisor
. This 3-step questionnaire requires just minutes to complete, and generates a free, no-obligation vitamin and nutritional supplement recommendation that is personalized to meet your unique nutritional needs.
Simple Steps to a Healthier Life: Just a Click Away!
Small improvements can lead to big changes: see what Dr. Weil's website SpontaneousHappiness.com can do for you. Each week for eight weeks, we focus on specific goals for the mind, body and sprit. The payoff? A healthier, more well-rounded and contented you! Start your 10-day free trial today and see how small, simple steps can help you feel renewed and inspired!