Is MSG Really That Bad for You?
Published: 09/22/2013
Learn More:
Chromium
Related:
Vitamin Library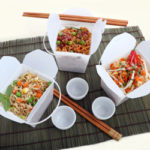 Monosodium glutamate (MSG) is a flavor enhancer often used in Asian foods as well as in a wide range of commercially prepared foods. Chemically, it is a salt of glutamic acid, one of the amino-acid building blocks of protein. Glutamic acid and its salts, including MSG, stimulate a particular taste receptor, the one responsible for the so-called "fifth taste" or umami (a Japanese word meaning "meaty" or "savory").
The focus on MSG as unhealthy began with a report in 1968 about a physician who claimed to have health concerns including flushing, general weakness and heart palpitations after eating MSG. These concerns, which other people have experienced, usually start about 15 to 20 minutes after consumption, last for two hours, and have no residual effects. Subsequent studies in the 1990s found no short- or long-term health problems from eating MSG, though it was determined that people who eat three grams of MSG or more on an empty stomach and people with severe asthma can develop the side effects mentioned above, as well as headache, tingling and facial pressure. (The typical amount of MSG in in one serving of food is less than 0.5mg.)
The bottom line: feel free to enjoy MSG if it does not result in any side effects. If you have reacted to foods containing MSG or glutamate, check labels when shopping, and when dining in Asian restaurants ask that your food be prepared without MSG. You can also try to replicate the umami component of foods naturally, without added MSG, by using seaweeds such as kombu and mushrooms such as shiitake in soups, stocks and sauces. Other foods naturally containing free glutamates include fresh tomatoes, tomato paste and Parmesan cheese.
Find out which vitamins are right for you.
Everyone's dietary needs are different based on a number of factors including lifestyle, diet, medications and more. To find out
what vitamins you need
, take the
Weil Vitamin Advisor
. This 3-step questionnaire requires just minutes to complete, and generates a free, no-obligation vitamin and nutritional supplement recommendation that is personalized to meet your unique nutritional needs.
Want to Some Guidance in Planning Healthy Meals?
Whether you are cooking for one, two or ten, preparing healthy meals doesn't have to be a challenge. Dr. Weil on Healthy Aging makes meal planning simple and enjoyable, with over 300 healthful recipes, eating and shopping guides, cooking videos and more. From appetizers to desserts and everything in between, see what our online cookbook has in store for you – start your 14-day free trial today and save 30% when you join!