Dr. Weil's Summers in British Columbia
Published: 08/17/2013
Learn More:
Fibromyalgia
Related:
Condition Care Guide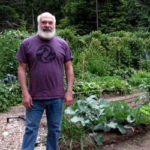 British Columbia is green and cool in the summer, making it an ideal place to get away. I always savor the summers I spend there, and would like to share some photos of my experiences. I hope you enjoy them!
Check out the album Summer Life in British Columbia.
Find out which vitamins are right for you.
Everyone's dietary needs are different based on a number of factors including lifestyle, diet, medications and more. To find out
what vitamins you need
, take the
Weil Vitamin Advisor
. This 3-step questionnaire requires just minutes to complete, and generates a free, no-obligation vitamin and nutritional supplement recommendation that is personalized to meet your unique nutritional needs.
Want to Savor Your Life?
Learning to embrace aging is wonderful, regardless of how old you are. Instead of lamenting the passing of the years, find out how to embark on a positive path towards all the experiences the process brings. Dr. Weil on Healthy Aging can help guide you on the path of life, with information on how to promote the health of your body, mind and spirit. Start your 14-day free trial now, and 30% when you become a member.