Dr. Weil Recommends: What Nut Should You Be Eating?
Published: 01/04/2014
Learn More:
Impetigo
Related:
Condition Care Guide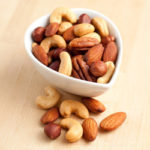 Walnuts are an excellent choice when it comes to healthy snacking. I've consistently recommended them as part of an overall healthy diet. It looks like I am not alone: researchers from the University of Scranton compared the concentration of powerful antioxidants known as polyphenols in nine different types of nuts, both raw and roasted. Walnuts came out on top, whether roasted or raw – they were found to have both the highest concentration and most potent polyphenols.
Some benefits of walnuts:
They are a good source of omega-3 fatty acids, protective fats that promote cardiovascular health, help maintain optimal cognitive function, and tone down inflammation.
They provide heart-healthy monounsaturated fats.
They help support a healthy immune system through ellagic acid, an antioxidant compound.
They contain L-arginine, an essential amino acid that promotes healthy blood pressure.
Try adding walnuts to your berries and plain whole milk yogurt, eat them as a snack, use walnut oil in salad dressings, and add to dark chocolate pieces for a nutritional boost.
Try this healthy dip featuring walnuts: Garlic Walnut Dip
Find out which vitamins are right for you.
Everyone's dietary needs are different based on a number of factors including lifestyle, diet, medications and more. To find out
what vitamins you need
, take the
Weil Vitamin Advisor
. This 3-step questionnaire requires just minutes to complete, and generates a free, no-obligation vitamin and nutritional supplement recommendation that is personalized to meet your unique nutritional needs.
Want to get "Healthy in a Hurry"?
Sign up for the "EatingWell This Week" Free E-Newsletter – full of in-season recipes, healthy-in-a-hurry suppers, EatingWell Test Kitchen cooking techniques and tips, product and tool ratings. And get a free gift – a digital mini-cookbook. Click here for free e-newsletter!