Are You Eating Summer Squash? You Should!
Published: 07/04/2014
Learn More:
Could You Live to Be 150?
Related:
Aging Gracefully
This Daily Tip is courtesy of Dr. Weil on Healthy Aging: Your Online Guide to the Anti-Inflammatory Diet. Start your 14-day free trial now and save 30% when you join!
Try squash in the Green Squash Soup and Toasted Grain Pilaf recipes!
Looking for an easy-to-prepare, healthful vegetable to add to your summer menu? Try summer squash. This entirely edible vegetable – you can enjoy the skin, flesh and seeds – is a good source of manganese, vitamins A and C, magnesium, fiber and folate. It comes in many varieties, including the popular green zucchini; a crookneck variety that is yellow-skinned with a curved neck; and the flat, round pattypan squash, a sweeter variety of summer squash.
When choosing squash, look for examples that are heavy for their size, with a blemish-free rind that is not too hard. Average-sized squash tend to be less fibrous than large squash, and often have better flavor than squash that is small.
You can even make an entree out of squash by slicing it lengthwise, scooping out the seeds, and filling the cavity with chopped onions, garlic and tomatoes. Bake at 350 degrees for about 20 minutes, then top with some freshly grated Parmesan cheese.
Find out which vitamins are right for you.
Everyone's dietary needs are different based on a number of factors including lifestyle, diet, medications and more. To find out
what vitamins you need
, take the
Weil Vitamin Advisor
. This 3-step questionnaire requires just minutes to complete, and generates a free, no-obligation vitamin and nutritional supplement recommendation that is personalized to meet your unique nutritional needs.
TOP PICKS
WE RECOMMEND


Foods You Don't Have to Buy Organic
There is a growing consensus in the scientific community that small doses of pesticides and other chemicals canhave adverse effects on health.
Read More

WE RECOMMEND


Dirty Dozen Plus
By choosing organic foods, you can reap the health benefits of fruits and vegetables without exposing yourself and yourfamily to potentially harmful chemicals.
Learn More

ASK. DR. WEIL


Could You Live to Be 150?
What do you think of the claim that the first person to live to be 150 or even 200 is alive today?
See Answer

TODAY'S HEALTH TOPIC


Antioxidants Reconsidered
We need antioxidants because everyday metabolism creates destructive molecules called reactive oxygen species (ROS).
Read More
Want to Continue the Year on a Healthy Note?
Good health begins in the kitchen. Fresh fruit and vegetable juices are easy with the Dr. Weil Healthy Kitchen Juice Extractor. This powerful yet quiet machine automatically separates juice and pulp into individual containers and is simple to use and clean. Learn more!
YESTERDAY'S TIP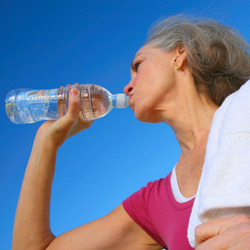 5 Simple Ways to Stay Hydrated
Dehydration is not a minor problem – your cells and tissues depend on a steady supply of water for optimal function. Learn about the dangers of dehydration, and simple ways to avoid it.