Are You Cooking Salmon The Healthiest Way?
Published: 12/26/2013
Learn More:
Best Way to Sharpen Your Mind?
Related:
Mental Health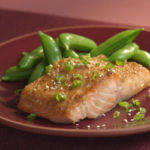 Need a good reason to serve fish? Eating wild Alaskan salmon is one of the best ways to get important omega-3 fatty acids into your diet. Omega-3s offer protection against heart attack, stroke, cancer and inflammatory diseases such as rheumatoid arthritis. However, how you store and cook salmon can affect these essential nutrients, which can be destroyed by exposure to air, light and heat. According to the National Fisheries Institute, freezing fish and other seafood as well as avoiding certain cooking methods (like deep-frying, blackening or sautéing at high temperatures) will cause minimal loss of the health-protective omega-3 fatty acids they contain.
The best way to preserve omega-3s in salmon and keep down your total fat intake is to bake, broil, poach, steam or grill them just to the point of doneness that you prefer, and avoid adding fatty condiments.
Find out which vitamins are right for you.
Everyone's dietary needs are different based on a number of factors including lifestyle, diet, medications and more. To find out
what vitamins you need
, take the
Weil Vitamin Advisor
. This 3-step questionnaire requires just minutes to complete, and generates a free, no-obligation vitamin and nutritional supplement recommendation that is personalized to meet your unique nutritional needs.
Vital Choice Wild Seafood & Organics
Vital Choice's wild Alaskan salmon is recommended by Dr. Weil because of its rich nutritional content and exceptional taste. As the leading source for fast home delivery of the world's finest wild seafood, whole-food supplements, and fine organic fare, Vital Choice is committed to serving the best. Quality foods that are the purest available and always sustainably harvested. Shop Vital Choice now – and sign up for Vital Choices, our free e-newsletter with up-to-the-minute health news, recipes, and exclusive special offers.