6 Simple Ways to Make Pizza Healthier
Published: 09/03/2013
Learn More:
Losing Out on REM Sleep?
Related:
Sleep Issues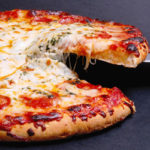 Pizza is a classic comfort food that has been around for centuries (though it became popular in the U.S. only after returning World War II soldiers demanded the food they had loved in Italy). Pizza is fairly easy to make at home, and when you do, you control the ingredients and therefore the health benefits. Whether you bake pizza at home or have it delivered, use the following suggestions to maximize its health benefits:
Choose whole-wheat crust made with bits of cracked grain, not just whole-wheat flour. If this is not an option, opt for the thinnest crust possible.
Use organic, high-quality varieties of full fat cheese.
Avoid sausage or pepperoni – they are high in sodium and often contain preservatives like sodium nitrite.
Go for the veggies – they are naturally high in fiber and antioxidants, and will help fill you up while still satisfying your taste buds.
Use fresh herbs – a low-calorie, no-sodium way to add flavor and zest.
Top with red pepper flakes – they are naturally anti-inflammatory!
Find out which vitamins are right for you.
Everyone's dietary needs are different based on a number of factors including lifestyle, diet, medications and more. To find out
what vitamins you need
, take the
Weil Vitamin Advisor
. This 3-step questionnaire requires just minutes to complete, and generates a free, no-obligation vitamin and nutritional supplement recommendation that is personalized to meet your unique nutritional needs.
Eating Healthy Getting Confusing?
A healthy diet is simple, with the right information and guidance. Dr. Weil on Healthy Aging is your online guide to the anti-inflammatory diet, with how-to videos, over 300 recipes, weekly nutrition tips and more. See how simple healthy eating can be – start your free trial today and save 30% when you join.