5 Simple Ways for the Whole Family to Shape Up
Published: 09/28/2013
Learn More:
Graves' Disease
Related:
Condition Care Guide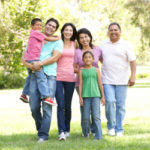 While not all children who are heavy grow up to be overweight adults, studies indicate that an obese child has a greater chance of becoming an obese adult than does a child who maintains a healthier weight. In fact, for every year that a child remains overweight, his or her risk of growing into an overweight adult increases. With the epidemic of childhood obesity in the United States, parents should focus on encouraging a less sedentary lifestyle and healthier dietary habits. Start with these simple approaches (which can benefit all family members, young or old):
Curb screen time. Limit the time your child spends watching television, sitting at the computer, or playing video games. Instead encourage outdoor play or activities that emphasize movement.
Set a good example. Studies have found that children are more likely to be physically active if their parents and siblings are active. Go on family walks after dinner, and make it a point to be active on weekends.
Emphasize nutritious foods. Replace empty-calorie foods such as cookies and chips with foods that provide nutrients. Fruit, cut-up vegetables and nuts (in small portions) make excellent snacks that are nutritious and filling.
Eat meals together. Serve healthy dishes, manage portion sizes, and make conversation part of the routine so the focus is not just on food, but sharing, conversing and eating together.
Think about drinks. Cut back on or water-down fruit juices, and eliminate soda altogether – make it a special treat that is not had at home.
Find out which vitamins are right for you.
Everyone's dietary needs are different based on a number of factors including lifestyle, diet, medications and more. To find out
what vitamins you need
, take the
Weil Vitamin Advisor
. This 3-step questionnaire requires just minutes to complete, and generates a free, no-obligation vitamin and nutritional supplement recommendation that is personalized to meet your unique nutritional needs.
Achieving a Healthy Weight
Dr. Weil on Healthy Aging can help you achieve your weight goals: Fitness guidance articles and videos, healthy recipes and eating guides, and a supportive community provide the tools, knowledge and support to keep you on the right track. Sign up for your 14-day free trial today and save 30% when you join!