14 Foods That Should Only Be Eaten Organic
Published: 08/24/2014
Learn More:
Dr. Weil's Organic Vegetable Garden, Tucson
Related:
Dr. Weil Photo Galleries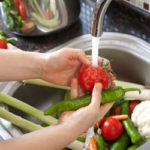 This tip is courtesy of Dr. Weil on Healthy Aging – Your Online Guide to the Anti-Inflammatory Diet. For more information on healthful eating, start your 14-day free trial today.
Eating fresh produce is the best way to obtain the nutrients that support optimum health, but the pesticides used on many crops remain a major health concern. By choosing organic foods, you can reap the health benefits of fruits and vegetables without exposing yourself and your family to potentially harmful chemicals. Pesticides present real health risks, particularly to children and those with health concerns. The toxicity most commonly associated with pesticides in animal studies include disruptions in the normal functioning of the nervous and endocrine systems, and increased risks of cancer.
As part of my support of the Environmental Working Group (EWG) and their recently updated Shopper's Guide, I am presenting the newest "Dirty Dozen" list – produce you should buy only in organically grown form. According to EWG, common growing practices make the crops listed below the most likely to contain higher pesticide residues:
Apples
Strawberries
Grapes
Celery
Peaches
Spinach
Sweet bell peppers
Nectarines (imported)
Cucumbers
Cherry tomatoes
Snap peas (imported)
Potatoes
Plus these which may contain organophosphate insecticides, which EWG characterizes as "highly toxic" and of special concern:
Hot peppers
Blueberries (domestic)
Learn more about why you shouldn't eat these foods in the Dirty Dozen Plus photo album.
Find out which vitamins are right for you.
Everyone's dietary needs are different based on a number of factors including lifestyle, diet, medications and more. To find out
what vitamins you need
, take the
Weil Vitamin Advisor
. This 3-step questionnaire requires just minutes to complete, and generates a free, no-obligation vitamin and nutritional supplement recommendation that is personalized to meet your unique nutritional needs.
TOP PICKS
WE RECOMMEND


Food Safety: Making Wise Choices
Take some time to discover how can you eat safely in an industrialized world – the key is to make informed choices.
Read More

WE RECOMMEND


Spices With Dr. Weil – Garlic
Not just a popular seasoning, garlic is also powerful, natural therapeutic spice.
Learn More

ASK DR. WEIL


Time to Take Out Tonsils?
When should tonsils be removed, if at all? How dangerous is the operation today?
See Answer

TODAY'S HEALTH TOPIC


Chromium
Chromium is a metallic element that humans require in very small amounts but is an essential part of metabolic processes.
Read More
Achieving a Healthy Weight
Dr. Weil on Healthy Aging can help you achieve your weight goals: Fitness articles, videos and tips, healthy recipes and eating guides, and a supportive community provide the tools, knowledge and support to keep you on the right track. Sign up for your 14-day free trial today and save 30% when you join!
YESTERDAY'S TIP
Do You Need To Always Eat Organic?
Eating for your health means making produce the foundation of your diet. While Dr. Weil recommends choosing organically grown vegetables and fruits when possible, availability and budget considerations can make that difficult. Use this list to discover which types are okay to eat when conventionally grown.
15 Foods That Don't Need To Be Organic