Do Weight Loss Drugs Affect Vitamin Absorption?
I am taking the drug Orlistat for weight loss three times a day with meals. Since it interferes with fat absorption, will it have an effect on my daily multivitamins, some of which I know are fat-soluble? I also take coenzyme Q10 and omega-3 fatty acids.
Andrew Weil, M.D. | November 10, 2014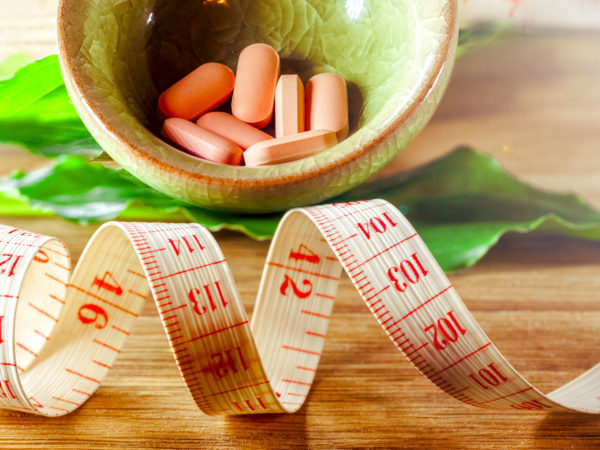 Originally published February 15, 2002. Updated November 10, 2014.
Orlistat, also known as Xenical, was approved for use by the Food and Drug Administration for weight loss in 1999. It is available in prescription strength and over-the-counter under the brand name Alli. The non-prescription version is half the strength (60 instead of 120 mg) of the prescription drug.
Orlistat reduces the body's absorption of fat from foods, thereby promoting weight loss and lowering cholesterol. It does this by blocking the action of lipase, an enzyme in the intestine that breaks down fat. As a result, Orlistat also interferes with the absorption of the fat-soluble vitamins A, D, and E, as well as other nutrients such as co-enzyme Q10 that rely on fat for absorption. Since you are taking many of these fat-soluble micronutrients, you will need to adjust your supplement schedule.
I suggest taking your multivitamins, as well as coenzyme Q10 and omega-3 fatty acids, two hours before or after taking your medication. It is fine to take the supplements all at once.
As you may know, I am not a supporter of weight-loss medications. My biggest concern with Orlistat is its common side effects: stomach cramping and diarrhea as well as an increase in blood pressure. Additionally, clinical trials found an increased risk for breast cancer. Your physician should have discussed these risks with you.
Bear in mind that both versions of Orlistat are meant to supplement – not replace – a weight-loss diet and exercise. Studies have shown that the average weight loss for the prescription-strength version Orlistat is 5 to 7 pounds more than you could lose in a year with diet and exercise alone. Taking Alli for a year would lead to a loss of three to five pounds more than you could lose with diet and exercise. The drug can also lead to a reduction in cholesterol and insulin levels. According to the manufacturer, most weight loss occurs within the first six months.
In those who are obese and have other serious health problems such as heart disease and diabetes, the use of this medication is sometimes justified. However, the long-term success rate with most weight loss medications is low, and many of the drugs can be harmful. I still feel that the simple, safe solution to weight loss is the traditional one: improve your diet and increase your activity.
Andrew Weil, M.D.
Sources:
G.A. Bray, et al. "Drug therapy of obesity." http://www.uptodate.com/home/index.html. Accessed Dec. 7, 2011.
R.S. Padwal, "Drug treatments for obesity: Orlistat, sibutramine and rimonabant." Lancet, January 6. 2007; 369:71.