Tea Tree Oil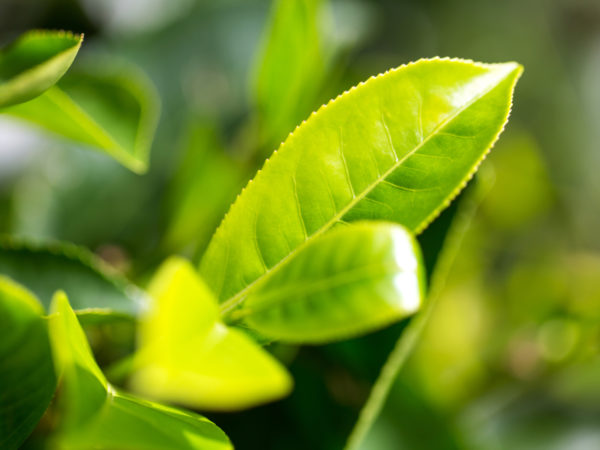 Tea Tree Oil (Melaleuca alternifolia)
Tea tree oil (Melaleuca alternifolia) is derived from the Australian tea tree and is native to the eastern coast of Australia, including New South Wales and Queensland. The oil is clear and strongly aromatic, similar to the scent of eucalyptus, and is a powerful disinfectant. It is not the same as tea oil, which is used for cooking.
Aborigines of eastern Australia applied the leaves topically to treat wounds and infections, chewed the leaves, and inhaled the oil for colds and coughs.
Tea tree oil became popular in the U.S. in the 1920s and 1930s due to its antibacterial properties and ability to treat bacterial infections. Use of tea tree oil declined after World War II due to the availability of effective antibiotics, but interest resumed during the 1970s, and large-scale production of tea tree oil was established.
Tea tree oil has been found to be an effective remedy for fungal and viral infections, particularly those that affect the skin. The compound terpinen-4-ol, one of over 98 compounds found in tea tree oil, is responsible for most of the antimicrobial activity found in the oil.
Uses For Tea Tree Oil:
Tea tree oil should only be used topically for fungal infections, including athlete's foot, ringworm, and jock itch; for help in the management of acne; with mild localized infections and sores on mucous membranes, including canker sores and gingivitis; and for management of dandruff, bee stings, scabies, and lice. Preliminary data suggest that tea tree oil may have a therapeutic role in the management of abscesses and boils, especially when due to MRSA (methicillin-resistant Staphylococcus aureus).
Tea tree oil can also be added to hot water, creating a steam inhalant (be careful not to burn yourself) that is useful for treating cough, bronchial congestion, sore throat, and overall pulmonary inflammation.
One study found that five percent tea tree oil was as effective as five percent benzoyl peroxide in treating acne. The tea tree oil took longer to treat acne than the benzoyl peroxide but was less irritating to the skin.
Other research found that topical application of 100 percent tea tree oil, twice a day for six months, eradicated toenail fungus in about 18 percent of patients. It also improved the appearance of the nails in about 60 percent of patients.
Tea tree oil also appears to be effective at relieving symptoms of tinea pedis (athlete's foot). In one study, 10 percent tea tree oil was found to reduce symptoms such as scaling, inflammation, itching, and burning when applied regularly. However, tea tree oil was not effective at actually curing the fungus.
Other studies have shown tea tree oil may be effective at treating bacterial vaginosis, herpes labialis (cold sores), and oral candidiasis (thrush). More evidence is needed to confirm the effectiveness of tea tree oil in these clinical circumstances.
Tea Tree Oil Is Available In:
Pure essential oil and many formulations; it can also be found in soaps, shampoos, and toothpastes. 
Interactions, And Warnings:
Tea tree oil is toxic when swallowed and should only be used topically. It may also cause skin irritation in some individuals, so apply a small amount to test it when first using. Discontinue use if irritation appears. The oil may burn if it comes in contact with the eyes, nose, or mouth.
The oil should not be applied to non-fungal rashes or broken skin.
Use in children is safe, but repeated use of tea tree oil was linked to gynecomastia (breast growth) in prepubescent boys. Check with your pediatrician before using tea tree oil.
When Buying Tea Tree Oil:
Tea tree oil is available at most health food and herb stores. Look for pure 100 percent tea tree oil standardized to contain not more than 10 percent cineole (an irritant) and at least 30 percent terpinen-4-ol. Dilute before using except when applying directly to fungal nail infections.
Tea Tree Oil Dosage:
For Adults:
Acne: 5 percent gel for twenty minutes to affected areas twice daily.
Athletes Foot: Apply a light coating of dilute oil (25 to 50 percent) to affected areas three or four times a day, and continue to use it for two weeks after symptoms resolve to make sure that the fungus is eradicated.
Finger And Toenail Fungal Infections: Paint 100 percent tea tree oil on affected areas two or three times a day.
Wounds: Mix one and one-half tablespoons of a 10 percent tea tree oil solution to a cup of warm water and use it to rinse and clean infected wounds. You can also use this as a gargle for sore throats, but do not swallow it.
Child dosage is the same as adults (consult pediatrician first).
Dr. Weil Says:
Tea tree oil is the best treatment I know of for fungal infections. It is an excellent alternative to the harsh chemicals found in most over-the-counter treatments for athlete's foot and jock itch. It is also gentle for people with sensitive skin, offering much-needed relief for dandruff and acne.
SOURCES:
Consumerlab. consumerlab.com/tnp.asp?chunkiid=21867
Natural Database – naturaldatabase.therapeuticresearch.com/nd/Search.aspx?pt=100&id=113&fs=ND&searchid=37592567&cs=nonmp&s=ND
Cao H, Yang G, Wang Y, et al. Complementary therapies for acne vulgaris. Cochrane Database Syst Rev 2015; Jan 19;1:CD009436.
Henley DV, Lipson N, Korach KS, et al. Prepubertal gynecomastia linked to lavender and tea tree oils. N Engl J Med 2007;356:479-485.
Pazyar N, Yaghoobi R, Bagherani N, et al. A review of applications of tea tree oil in dermatology. Int J Dermatolo 2013;52:784-790.
Thomas J, Carson CF, Peterson GM, et al. Therapeutic Potential of Tea Tree Oil for Scabies. Am J Trop Med Hyg 2016;94:258-266.
Reviewed by Russell Greenfield, M.D., August, 2016.