Marjoram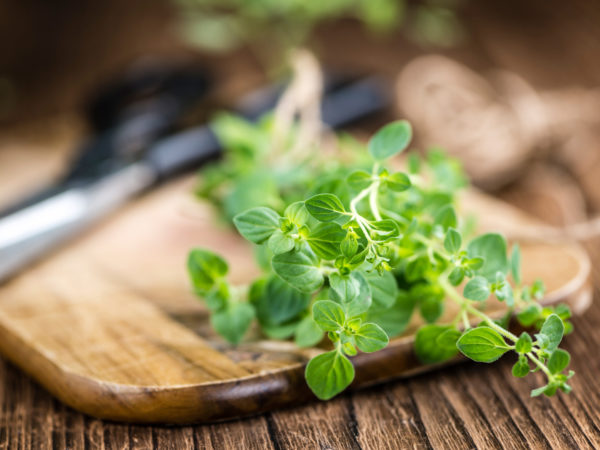 Marjoram (Origanum majorana)
Marjoram is a perennial herb native to the Mediterranean area, specifically Cyprus and southern Turkey, but has since spread throughout the world. The plant grows to about a foot in height, sprouting aromatic leaves and producing purple flowers that bloom from July through August. Both the ancient Greeks and Romans used the herb for a variety of purposes, including as a remedy for poisons, convulsions, and swelling. In Greek mythology, the goddess of love, Aphrodite, grew marjoram, and as a result, marjoram has be associated with and used in "love potions." In both ancient Greek and Roman culture, young couples wore crowns of marjoram.
Used for:
Most people recognize marjoram as a culinary spice that provides a sweet, pine-citrus tang to soups, stews, and sauces. However, marjoram flowers, leaves, and oil all have long histories of use medicinally to treat health conditions including digestive discomforts,menopause symptoms, mood swings, and cough. Other uses include alleviating colds, stimulating appetite, reducing headache and as a nerve and heart tonic.
Large-scale studies on the health benefits of marjoram are limited, but there are indications that essential oil of marjoram has antimicrobial properties, especially against bacteria.
Natural Medicines Comprehensive Database (NMCD) concludes marjoram is "likely safe" for most adults when used in amounts commonly found in foods, and "possibly safe" when the leaf is used orally for medicinal purposes on a short-term basis. However, long-term use of the flower, leaf and oil are "possibly unsafe" because of the presence of compounds arbutin and hydroxyquinone, which some studies suggest may have carcinogenic effects.
Available In:
Dried marjoram leaf is available in the herb aisle of many grocery and natural foods stores. Marjoram essential oil is found in health specialty stores. Look for standardized liquid or capsule extracts.
Herb /drug interactions:
Marjoram may act as a diuretic and therefore lead to rapid excretion of medications. Talk with your healthcare provider before taking marjoram.
Other safety concerns:
Skin contact with fresh marjoram may result in irritation and swelling. Women who are pregnant should avoid the use of marjoram in medicinal amounts as it may induce spontaneous abortion. Children should avoid medicinal amounts of marjoram as well.
Marjoram can cause allergic reactions in people allergic to other plants in the Lamiaceaefamily – basil, hyssop, lavender, mint, oregano, and sage.
When buying:
Look for products from reputable companies and in standardized extracts.
Dosage:
The typical oral dose of marjoram is one to two cups of the tea daily. Prepare the tea by steeping one to two teaspoons of the flower or leaf in one cup of boiling water for five minutes, and then strain. Marjoram can also be used as a poultice or mouthwash; consult with your physician for appropriate concentrations.
Child Dosage:
Children should avoid marjoram in amounts larger than those typically used in culinary applications.
Dr. Weil says:
I don't often recommend marjoram as a medicinal herb, but I love to use it in cooking, and always have plenty of this easy-to-grow perennial in my garden. Marjoram has an interesting history, dating back to ancient Greece where it was thought to increase love and sexual desire. While these aphrodisiac effects are dubious, marjoram is a great herb to have on hand in any kitchen. Dried marjoram is added to many culinary dishes and has a sweet, oregano-like flavor with notes of pine and citrus – but don't confuse marjoram with winter marjoram or oregano, which are different species of plants.
Sources:
Deans, S. G., and Katerina P. Svoboda. "The antimicrobial properties of marjoram (Origanum majorana L.) volatile oil." Flavour and Fragrance Journal 5, no. 3 (1990): 187-190.

Marjoram. Natural Medicines Comprehensive Database. Stockton, CA: Therapeutic Research Faculty. [Updated Dec. 24, 2012; Reviewed Dec. 24, 2012; Accessed Apr. 4, 2014]. http://naturaldatabaseconsumer.therapeuticresearch.com/nd/Search.aspx?rn=3&cs=NONMP&s=NDC&pt=100&id=563&fs=NDC&searchid=45672226

Vagi, E., B. Simandi, A. Suhajda, and E. Hethelyi. "Essential oil composition and antimicrobial activity of Origanum majorana L. extracts obtained with ethyl alcohol and supercritical carbon dioxide." Food research international38, no. 1 (2005): 51-57.
Reviewed by Jeff Gladd, M.D., September 24th, 2014.