TRUE FOOD KITCHEN TO OPEN AT FASHION ISLAND NEWPORT BEACH, CA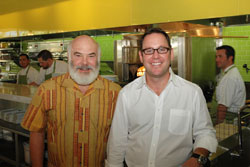 For Immediate Release:
Phoenix, Arizona; January 26, 2010 — True Food Kitchen announced today that it will open its first California restaurant in Newport Beach, Calif., about 50 miles south of Los Angeles, on August 2nd, 2010.
Developed by Fox Restaurant Concepts and best-selling, healthy-living author Dr. Andrew Weil, the Phoenix-based restaurant features a menu and ambiance that appeals to sophisticated diners pursuing a balanced lifestyle.
"True Food is unlike any restaurant in the nation," said Sam Fox, CEO of Fox Restaurant Concepts. "Our restaurant celebrates high quality locally-sourced ingredients to create a unique menu that tastes great while nourishing mind, body and spirit. We believe Fashion Island – with its discerning and health-conscious customers – is the perfect place for us to expand."
Fashion Island is an open-air shopping mall. The restaurant will be housed in the 9,600 sq. ft. space formerly occupied by Blue Coral next to Roy's Hawaiian Fusion Cuisine and Fleming's Prime Steakhouse.
Keith Eyrich, President of Irvine Company Retail Properties, said True Food Kitchen responds to consumers' evolving focus on healthy lifestyle choices.
"Fox Restaurant Concepts produces well-run restaurants that focus on attention to detail," he said. "We are proud to be a place where successful new restaurant concepts such as Fleming's and Cafe R&D are launched. We believe True Food Kitchen – already a success at Biltmore Fashion Park in Phoenix – will be a popular dining destination in Newport Beach."
Executive Chef, Michael Stebner said his menus are influenced by Mediterranean, Asian and Californian cuisine. A wide variety of offerings will include soups; appetizers; salads; pasta; rice and noodle dishes; wood grilled dishes; sandwiches and burgers; brick oven pizzas and desserts. A sample of dishes includes Wild Smoked Salmon with Shaved Radishes; Lemon Cream & Wasabi Peas; Sashimi Tuna Salad with Avocado, Cucumber, Tomato, Edamame & Ginger; Curry Chicken with Rice Noodles; Cauliflower & Cashews; Green Tea Soba Noodles with Peas; Bok Choy & Lemongrass; Fresh Tomato Pizza with Pasilla Chile & Machengo; Grilled Wild Ahi Sliders with Wasabi, Radishes and Cucumber on Pumpernickel; and Natural Half Chicken with Farro, Walnuts, Dried Fig, Brussels Sprouts & Squash.
The restaurant will also offer catering, take out, weekend brunch, breakfast, a selection of coffee drinks, natural juice blends, hot and cold tea, cocktails, organic and low calorie beer and sake. All wines are selected based on wineries' commitment to organic, biodynamic and/or sustainable farming practices.
The decor will be warm and inviting, open, and "green," officials said. Materials selected for the interior are environmentally friendly, including caesarstone quartz countertops, low voltage LED lighting, low VOC paint, white oak butcher block tables & countertops and more. The restaurant will participate in a recycling program as part of its membership in The Green Restaurant Association.
About Fox Restaurant Concepts
Fox Restaurant Concepts (FRC) is the privately held parent company of 12 unique concepts in Arizona, Kansas, Texas, Colorado & coming soon to California. Since 1998, FRC has opened 28 restaurants including, Wildflower (Tucson), Zinburger (Tucson, Scottsdale), Blanco Tacos + Tequila (Tucson, Scottsdale); Bloom (Denver, Scottsdale), NoRTH (Scottsdale, Tucson, Glendale, Denver, Austin, Kansas), Sauce (Tucson, Phoenix), The Greene House (Scottsdale), Olive & Ivy Restaurant + Marketplace (Scottsdale), Montana Avenue (Tucson), True Food Kitchen (Phoenix), Modern Steak (Scottsdale) and Culinary Dropout (Scottsdale). The concepts range from upscale casual and fast casual, to mixed food service and retail operations.
About Dr. Andrew Weil
A world-renowned leader and pioneer in the field of integrative medicine, Dr. Weil is a best-selling author and editorial director of DrWeil.com, the leading online resource for healthy living based on the philosophy of integrative medicine. Dr. Weil's books include the national bestsellers: Spontaneous Healing; 8 Weeks to Optimum Health; Eating Well for Optimum Health; The Healthy Kitchen, and Healthy Aging. Dr. Weil is an internationally-recognized expert for his views on leading a healthy lifestyle, his philosophy of healthy aging, and the future of medicine and health care. As a columnist for Prevention and TIME magazines and a frequent guest on Larry King Live, Oprah, and the Today Show, Dr. Weil provides valuable information and insight on how to incorporate conventional and complementary medicine practices in one's life to optimize the body's natural healing power.
About Fashion Island
As Orange County's premier coastal shopping experience, Fashion Island features specialty boutiques, world-class department stores and a wide assortment of restaurants and cafes. Visited by more than 13 million people annually, Fashion Island offers a sophisticated yet relaxed atmosphere that is distinctively Southern California. It appeals to local residents as well as discriminating travelers who seek the finest shopping and dining in a coastal resort setting.
###
Source: True Food Kitchen, Fox Restaurant Concepts
Media Contacts:
Debbie Porter
Vice President of Marketing
Fox Restaurant Concepts
480.751.2182
[email protected]
Kelly Frey
Morgan Marketing & Public Relations LLC
(949) 261-2216
[email protected]