Can Watching TV In The Dark Hurt Your Eyes?
I've always heard that watching television in a dark room is more harmful to the eyes than when you're watching in a lighted room. Is this true?
Andrew Weil, M.D. | February 18, 2022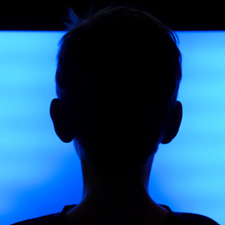 The notion that watching TV in a dark room is bad for your eyes has been around for a long time. The problem is said to result from the contrast in light between the brightly lit TV screen and its darkened surroundings. The good news is that decades of research have not turned up any evidence that your eyes are harmed by watching television in a dark room. You may experience some eyestrain or visual fatigue from viewing your favorite shows in the dark, but the effect is transitory and doesn't cause any long-lasting damage to your eyes.
In a 2006 study, researchers from the Lighting Research Center (LRC), part of Rensselaer Polytechnic Institute, asked some volunteers to watch an hour of an action movie on a flat-screen TV. Half of the volunteers viewed the movie in a room where the walls surrounding the television were illuminated. They then took a break and later watched another hour of movie footage without wall illumination. Another group of participants did the same thing, but in reverse order – first in the dark environment and then in the illuminated one.
Before and after watching the movie footage, all of the participants were asked to respond to visual cues by pressing a button, an exercise that allowed the researchers to monitor the participants' electrical brain activity and note any changes that occurred between the beginning and end of each session. And while the participants were watching the movie, the researchers monitored the rate at which they blinked their eyes. They also asked the participants to assess how the surrounding level of light affected them.
The result of all this testing and observation was that there was less eyestrain, discomfort, and visual fatigue when the volunteers watched the movie against a lighted wall. But the only statistically significant differences were due to trouble focusing, sleepiness, and the time lapse between the onset of the visual cues test and electrophysiological brain responses. All told, the results could be interpreted as mildly critical of watching television in a dark room, but no real harm was found.
Current research is looking into the effects of high-definition televisions and 3D televisions on the eyes; so far there has been no evidence of lasting harm from those, either.
I am more concerned about the health effects of looking at cell phones and other handheld devices late into the night, which has been shown to disrupt sleep and negatively affect overall health. One 2019 analysis of more than 6,600 adolescents showed that those who looked at mobile screens within an hour of sleep got less sleep, and of poorer quality, than those who didn't – and the effects were considerably worse in those who had watched their screens in dark rooms compared with those who had watched in lighted rooms. Any temporary eyestrain that results from watching their screens in the dark pales in comparison to the damage they could be doing by interfering with healthy sleep. You might be interested to know that another persistent notion – that sitting too close to the television will hurt children's eyes – is also not true. However, kids who habitually sit close to the TV may be indicating that they can't see the screen clearly if they sit farther away, possibly suggesting a need for glasses.
Another myth holds that reading in dim light can hurt your eyes. That's not true either, but reading in dim light can cause eyestrain or give you a headache. It is best to read with light shining directly onto the page.
Andrew Weil, M.D.
Source:
Lighting Research Center, Rensselaer Polytechnic Institute. "New Study Tests The Effects Of Watching TV In A Dark Room." ScienceDaily. 25 April 2006. http://www.sciencedaily.com/releases/2006/04/060425015643.htm, accessed July 3, 2014
Mireku MO, Barker MM, Mutz J, Dumontheil I, Thomas MSC, Röösli M, Elliott P, Toledano MB. Night-time screen-based media device use and adolescents' sleep and health-related quality of life. Environ Int. 2019 Mar;124:66-78. doi: 10.1016/j.envint.2018.11.069. Epub 2019 Jan 10. PMID: 30640131. https://pubmed.ncbi.nlm.nih.gov/30640131/
Kim H, Yang HK, Seo JM, Lee S, Hwang JM. Effect of Ultra-high-definition Television on Ocular Surface and Fatigue. Korean J Ophthalmol. 2020 Oct;34(5):367-374. doi: 10.3341/kjo.2020.0032. Epub 2020 Oct 5. PMID: 33099558; PMCID: PMC7597618. https://pubmed.ncbi.nlm.nih.gov/33099558/
Original Post September 2014. Update February 2022.