Avoid Ginger While Pregnant?
I have been taking ginger for a long time for osteoarthritis pain. I am 41 and just found out that I'm pregnant. Last year I had a pregnancy ending in early miscarriage. I recently read that only 1-5 grams of ginger is safe for pregnant women (I use much more). Do you have any thoughts on alternative pain and inflammation management techniques during pregnancy?
Andrew Weil, M.D. | July 2, 2010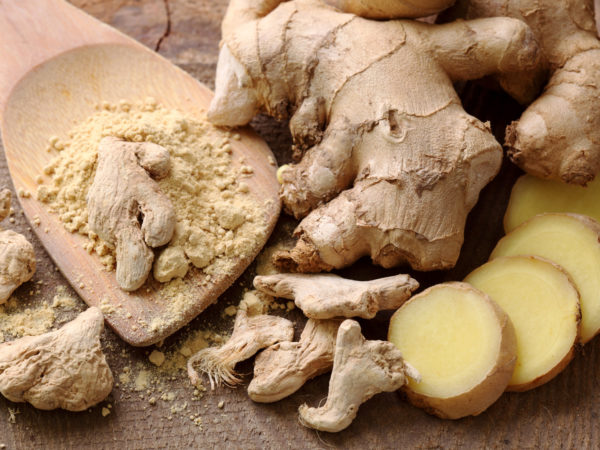 Ginger (Zingiber officinale) works as a natural anti-inflammatory agent and can be used to help relieve the pain of arthritis and bursitis. I also recommend it for motion sickness, nausea, and the relief of chest congestion. It is very effective for morning sickness, but you do have to be careful when using it during pregnancy. I checked on this with Tieraona Low Dog, M.D, an internationally recognized expert in the fields of integrative medicine, dietary supplements and women's health, and an authority on botanical medicine. She told me that in scientific studies the doses of dried ginger used to quell the nausea of morning sickness were 1,000 to 1,500 mg per day taken in two to four divided doses. She said she would not recommend using higher doses of ginger during pregnancy, particularly during the early stages.
Dr. Low Dog also cautioned that many of the ginger products on the market are highly concentrated ginger extracts. With these products, when the label says "250 mg", it means 250 mg of the extract. The equivalent of dried ginger root could be anywhere from 2,500 mg to 5,000 mg. If you do decide to continue using ginger for osteoarthritis pain during pregnancy, Dr. Low Dog advises keeping your daily dose in the range safely used in clinical studies. She recommends buying dried ginger powder or capsules that contain only dried, ground ginger.
For other effective approaches to help deal with your osteoarthritis pain during pregnancy, I recommend acupuncture, hypnotherapy and my anti-inflammatory diet.
Andrew Weil, M.D.