Peripheral Artery Disease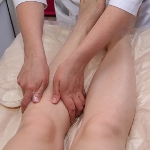 What is peripheral artery disease?
Peripheral artery disease (PAD) is a narrowing of the arteries in the "periphery" of the body. This term is used almost exclusively to refer to such narrowing in the legs, but this condition can also occur in the arms, stomach and head. PAD is similar to coronary artery disease, in that in both cases atherosclerosis (hardening of the arteries) is usually the underlying cause. In atherosclerosis, deposits of fats, cholesterol and other substances collectively known as "plaque" build up in the arteries narrowing them and eventually blocking the flow of blood. In the coronary arteries this can lead to a heart attack. Individuals with PAD have a much higher than normal risk for heart attack and/or stroke. Untreated PAD can lead to gangrene and amputation.
According to the U.S. Centers for Disease Control and Prevention (CDC) some 8 million people in the U.S. have PAD, including 12-20 percent of individuals over 60. African Americans are at higher risk for peripheral artery disease than any other racial or ethnic group.
What are the symptoms of peripheral artery disease?
The main symptoms of PAD include cramping, pain, numbness or fatigue in leg or hip muscles while doing physical activity such as walking, climbing stairs or exercising. The symptoms typically only occur with physical activity and resolve with rest. Cold temperatures and cold medications containing pseudoephedrine can further constrict blood flow to the limbs, thus worsening symptoms. Approximately 40% of people with PAD are asymptomatic, however.
In severe cases, symptoms can include leg pain that doesn't stop when you rest, foot or toe injuries that don't heal or heal very slowly and gangrene. Another symptom of severe PAD includes a decrease in the temperature of you lower leg or foot when compared with the rest of your body.
If a plaque deposit becomes brittle or inflamed, it can rupture causing formation of a blood clot, which can either narrow the artery further or block it completely. The symptoms of a blockage include pain, changes in skin color, sore or ulcer and trouble walking. Prolonged loss of circulation to the legs and feet due to this scenario can lead to gangrene and require amputation of the limb.
What is the cause of peripheral artery disease?
The process of atherosclerosis or hardening of the arteries due to cholesterol and other substances building up in the lining of the arteries, is the main cause of PAD. Other potential causes include blood vessel inflammation or physical injury to your limbs. Smoking is the principal risk factor for PAD. If you currently smoke or ever have, your risk of PAD is two to six times normal. You're also at higher than normal risk if you have diabetes, high blood pressure, high cholesterol or family history of atherosclerosis. The risk of PAD increases with age.
How is peripheral artery disease diagnosed?
PAD is initially clinically suspected based on a history of the characteristic symptoms. The first-line tool used to diagnose this condition is calculating something called the ankle-brachial index (ABI). This calculation involves measuring the systolic blood pressure (top number) in both ankles and comparing this measurement to the systolic pressure in both arms. The ABI helps to determine how well your blood is flowing to your feet and takes a few minutes to perform. It can be done as part of a routine physical exam. Normally, ankle pressure is at least 90 percent of arm pressure, but with severe narrowing it may be less than 50 percent. An ABI below 0.9 is considered to be diagnostic of PAD, while an ABI of less than 0.5 suggests severe PAD.
Other physical findings suggestive of PAD include weak pulses in the ankle and paleness of the feet. One or more of the following tests may be recommended if an ABI is lower than normal:
Doppler Ultrasound: Here, sound waves are used to visualize the major arteries and veins in the limbs and measure blood flow to detect if there is blockage. Results can show whether a blood vessel is blocked and help reveal the severity of P.A.D.
Treadmill Test: Walking on a treadmill can reveal whether or not you have any problems and, if so, how severe they are and the level of exercise needed to bring on symptoms.
Computed Tomographic Angiography (CT):This test looks at the arteries in your abdomen, pelvis and legs and is regarded as particularly useful in patients with pacemakers or stents.
Magnetic Resonance Angiography (MRA):This yields information similar to that seen with a CT without using X-rays.
Angiography:Generally reserved for use in conjunction with treatment, angiography requires injection of a contrast agent into the artery being studied and x-rays to reveal blood flow and identify any blockages.
What is the conventional treatment for peripheral artery disease?
If you are a smoker, the most effective way to stop symptoms and progression of PAD is to stop smoking.
The symptoms of PAD often can be treated effectively as part of a program of cardiac rehabilitation consisting of supervised exercise training. The exercise in question may be as simple as walking. Because poor circulation in leg arteries may cause pain while walking, the exercise is structured to enable you to alternate walking with rest so that eventually you'll be able to walk longer before encountering pain. If it isn't possible to exercise at a rehabilitation center where you can be monitored, your health care provider may be able to help you plan a program that will work for you. Avoiding cold temperatures by dressing in layers and avoiding medications containing pseudoephedrine will help reduce the severity of symptoms. In addition, the medication Pletal (cilostazol) can also reduce symptoms of PAD.
In order to treat underlying atherosclerosis and to reduce risk of heart attack and stroke, any lifestyle measures that can help to optimize cholesterol, blood pressure and blood sugar is helpful. These include following an optimal diet, exercising regularly and doing daily stress management. If lifestyle changes are insufficient, medication may be needed to help you avoid complications associated with PAD like heart attack and stroke. Additionally, medications like aspirin or clopidigrel (Plavix) may be recommended to reduce risk of blood clots.
In strongly symptomatic cases, angioplasty with or without stent placement may be recommended to open a blocked artery. Angioplasty involves inserting a catheter through a small incision in the groin and then threading it into to the blocked artery. A tiny balloon is inflated inside the artery to open the blockage. Sometimes, a tiny mesh cylinder called a stent is implanted to help prop the artery open. In addition, medication can be administered via the catheter or doctors may insert a device through the catheter to remove a clot that's blocking the artery.
Bypass surgery may be recommended if you're having severe symptoms due to a blockage of a long portion of an artery in your leg. Here, doctors use a vein from another part of the body to "bypass" or reroute blood around the closed artery.
What therapies does Dr. Weil recommend for peripheral artery disease?
Dr. Weil believes that the best treatment for peripheral artery disease is prevention. He recommends the following measures:
If you smoke – quit.
Control your blood pressure either through lifestyle changes or medication.
Exercise.
Limit alcohol intake.
Manage your diabetes if you have it (keep tight control of blood sugar levels).
Maintain optimal cholesterol levels.
Nutrition: Follow a diet designed for those with high blood pressure, high cholesterol and heart disease: a lower sodium (less than 2000mg/day), an anti-inflammatory diet is best.
Taking policosanol 10-20 mg orally daily can reduce symptoms associated with PAD and significantly improve comfortable walking distance. It seems to work by reducing cholesterol, reducing inflammation and by reducing the risk of blood clots. (Illnait, J., Castano, G., Alvarez, E., Fernandez, L., Mas, R., Mendoza, S., and Gamez, R. Effects of policosanol (10 mg/d) versus aspirin (100 mg/d) in patients with intermittent claudication: a 10-week, randomized, comparative study. Angiology 2008;59(3):269-277.) Because it can theoretically increase risk of bleeding, caution is advised if you are already on blood thinning agents like aspirin, Plavix, or Coumadin.