Metallic Taste in Your Mouth?
I've heard that a metal taste in the mouth means something about health, but I can't remember what it was. Can you help?
Andrew Weil, M.D. | December 15, 2016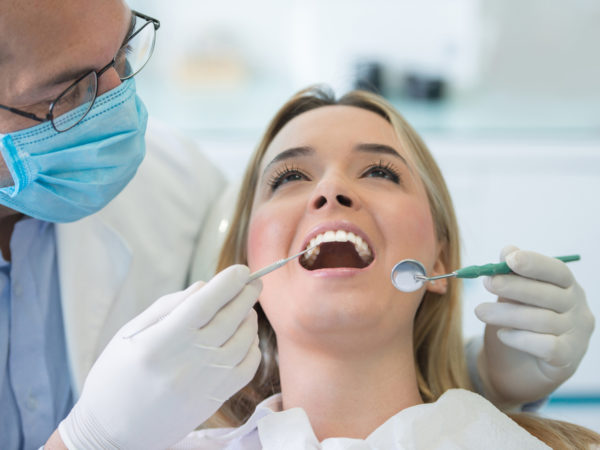 A metallic taste in the mouth is a common complaint and can be due to a variety of causes – from medication you may be taking to dental problems. In the absence of other symptoms, it is unlikely that a metallic taste in your mouth indicates serious disease. But if you haven't had a thorough general checkup recently, I would suggest seeing your doctor to rule out any health problems such as issues with your liver and kidneys, hyperparathyroidism, or undiagnosed diabetes.
You also might consider visiting your dentist, because the funny metallic taste in your mouth could be a symptom of gum disease. Even if you don't have gum problems, poor oral hygiene can affect taste. Be sure to brush your teeth carefully at least twice a day and use a tongue scraper to remove the bacteria and debris that can collect on your tongue. Dental work done in the past can break down and alter taste, so your dentist will probably look at that as well.
Not drinking enough water can also contribute to problems with this strange taste in your mouth. Increase your intake and see if it helps. While you don't necessarily have to drink the standard recommendation of eight 8-ounce glasses of water a day, my rule of thumb is to drink as much of that amount as you can comfortably consume and more than you think you need.
Among the drugs that can cause a metallic or coppery taste in your mouth are antibiotics like Biaxin (clarithromycin); Flagyl (metronidazole) , used to treat a wide variety of infections; drugs used to treat an overactive thyroid; captopril, used to treat high blood pressure ; griseofulvin, used to treat skin infections; lithium, used in bipolar disorder; penicillamine, used for rheumatoid arthritis or to prevent kidney stones; and some drugs used in cancer treatment.
Ayurvedic supplements from India have been found to exceed acceptable amounts of metal such as mercury, lead, or arsenic and I would be cautious about purchasing them online. Multivitamins containing copper, zinc, or chromium, as well as iron or calcium supplements might cause a temporary taste of metal, but typically subside as it's being processed by your digestive system. This taste can be symptomatic of a vitamin D overdose , but with most of the population being vitamin D deficient and extremely high dosages (over 10,000 IUs) required, I doubt this is of any great concern. A metal taste is actually more commonly associated with a deficiency of vitamin B12, D, or zinc.
While a metallic taste can be a symptom of acute metal poisoning, it's rare since our bodies are quite efficient at sequestering and neutralizing the contaminants that it's not able to expel through the skin, liver, and kidneys. Heavy metal poisoning such as having too much lead or copper in the body due to conditions such as Wilson's Disease, being around fungicides containing copper sulfate, or contaminated drinking water require intervention such as chelation therapy, so consider possible exposures when speaking with your physician.
Metal on metal (MoM) hip replacements have been known to cause metal poisoning. If you have had a MoM hip replacement and you develop symptoms of metallic taste in your mouth I recommend you see your primary or orthopedic physician.
A taste disorder called dysgeusia could potentially be at the root of phantom flavors as well. When taste cells are stimulated, messages are sent through three specialized nerves to the brain to identify.
Sometimes these wires get crossed in cases of dementia, head injury, or as the result of radiation therapy. Pregnancy hormones can also cause temporary bouts of dysgeusia, especially in the first trimester. Eating citrus fruits or vinegar-marinated foods will help counteract the taste and activate salivation to dilute the unsavory taste of metal. With such a strong tie between the sense of smell and taste, respiratory infections such as sinusitis can also throw your taste buds for a loop and give you the false perception of a metallic taste.
If you rule out all of these possible causes, have been medically evaluated, and still have the metallic taste in your mouth, it might be worthwhile to consult with a practitioner of Chinese medicine. That system might have an answer for you.
Andrew Weil, M.D.
Sources:
http://jama.jamanetwork.com/article.aspx?articleid=182460 http://livertox.nih.gov/Penicillamine.htm http://www.mayoclinic.org/drugs-supplements/metronidazole-oral-route/precautions/drg-20064745 http://www.mayoclinic.org/drugs-supplements/vitamin-d-and-related-compounds-oral-route-parenteral-route/side-effects/drg-20069609 http://www.ncbi.nlm.nih.gov/pubmedhealth/PMHT0011638/?report=details#side_effects http://www.webmd.com/kidney-stones/kidney-stones-medications https://health.clevelandclinic.org/2015/04/8-possible-causes-for-that-metallic-taste-in-your-mouth/ https://www.nidcd.nih.gov/health/taste-disorders https://www.nlm.nih.gov/medlineplus/druginfo/meds/a681039.html https://www.nlm.nih.gov/medlineplus/druginfo/meds/a682823.html https://www.nlm.nih.gov/medlineplus/druginfo/meds/a692005.html https://www.urmc.rochester.edu/encyclopedia/content.aspx?ContentTypeID=167&ContentID=total_copper_blood Selfhealing Newsletter, July 2008, pg 7
Selfhealing Newsletter, Nov 2008; pg 2