Cherry Juice to Relieve Joint Pain?
I recently read that taking 2,000 mg of cherry concentrate provides more pain relief than aspirin and other pain killers. Could this be true? Are there any side effects of using cherry juice?
Andrew Weil, M.D. | August 2, 2011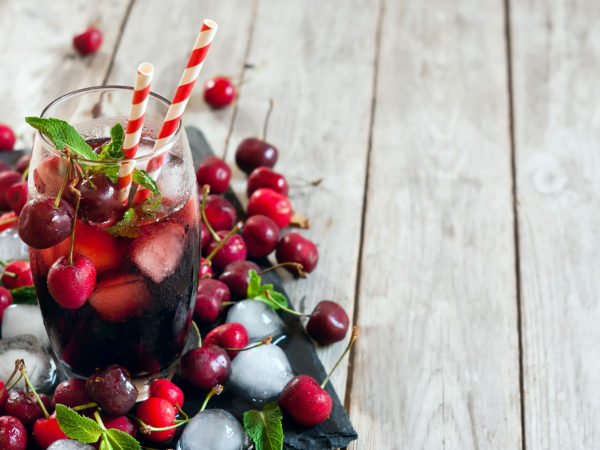 Some scientific evidence does suggest that drinking cherry juice or eating tart (pie) cherries in season can help relieve muscle pain, arthritis pain and the pain of gout as well as – or better than – aspirin and other anti-inflammatory drugs. The anthocyanins that give tart cherries their color are likely responsible for their anti-inflammatory, pain-killing effect.
Cherries haven't been widely researched for their effect on pain, but the few studies that have been done appear promising. In 2010, investigators at Oregon Health & Science University (OHSU) tested cherry juice against a placebo among athletes preparing to run the 197-mile relay race from Mount Hood to Seaside, OR. The participants drank 10.5 ounces of cherry juice or a placebo twice a day for seven days prior to the race and the same amount every eight hours on the day of the race. None of them were taking any other pain relievers. After the race, the runners who drank the cherry juice reported less pain and faster muscle strength recovery than those who received the placebo.
In 2006, British researchers reported results of a study in which college-age men drank a blend of cherry and apple juice or a placebo twice a day for eight consecutive days. On day four, those who drank the cherry-apple juice mix reported less pain after performing a series of intensive arm exercises than those who drank the placebo. Moreover, the men who drank the juice reported that their pain peaked at 24 hours, while in the placebo group, pain continued to increase for two days after the workout. The study appears in the August, 2006, issue of the British Journal of Sports Medicine.
One of the earliest investigations of the effect of cherries on pain took place at Michigan State University. Researchers said their findings suggested that the equivalent of 20 tart cherries inhibited the enzymes Cox-1 and Cox-2, which are the targets of anti-inflammatory drugs, and did so at doses much lower than a usual dose of aspirin.
While these results are compelling, we don't yet have enough evidence to recommend drinking cherry juice as a sole or primary treatment for arthritis, gout, and muscle pain. So far, no study has directly compared the pain-relieving effects of cherry juice to those of aspirin or ibuprofen. While anti-inflammatory drugs do have serious drawbacks – regular use can lead to stomach problems and internal bleeding – drinking two bottles of natural cherry juice daily can lead to diarrhea and upset stomach. We don't know whether cherry juice concentrate would have these effects. Also, bear in mind that cherry juice isn't calorie-free. One eight-to-10-ounce bottle of juice is the caloric equivalent of consuming three servings of fruit, with all the sugar and none of the fiber.
Andrew Weil, M.D.