Setting Off Fireworks At Home?
People in my neighborhood are planning a DYI fireworks display for July 4th. Should I be concerned?
Andrew Weil, M.D. | June 28, 2019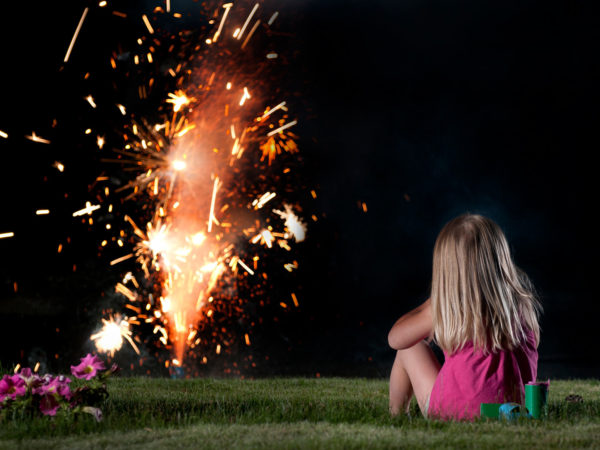 Fireworks are part of the fun of the 4th, and I enjoy them a lot. They have a long history, going back centuries in China. Making them has been a secret craft, protected by guilds and handed down in families. To my eye, the Japanese produce the best aerial fireworks and Italians and Mexicans the best ground displays.
Any way you set them off, fireworks induce an altered state of consciousness that is exhilarating and sometimes a BIT scary. They remind me of flowers blooming in fast motion. (The Japanese word for them is hanabi, meaning "fire flowers.")
Depending on where you live, setting off fireworks on your own may be illegal, although Massachusetts is the only state that prohibits all kinds. To find out what your state permits, check the American Pyrotechnic Association directory for state laws. You should also check with your fire or police department to see if there are any local restrictions.
If legally allowed, I think it's fine to set off fireworks on your own as long as you're aware of the dangers they can present and use the safety precautions needed. According to the U.S. Consumer Product Safety Commission (CPSC), in 2017 (the last year for which figures are available) eight people died and about 12,900 were hurt badly enough to require medical treatment as a result of incidents related to fireworks. Most of the injuries involved amateurs trying to use professional-grade, homemade or other illegal fireworks or explosives, although many were caused by less powerful legal devices such as firecrackers and sparklers. Misuse of fireworks, not malfunction, was the main problem. For the record, commercially produced explosive devices banned nationwide include M-80s, M-100s, blockbusters, and quarter pounders. Avoid all of them and don't try to make your own fireworks at home.
You also should be aware that more fires are reported on July 4th than on any other day of the year. According to the National Fire Protection Association, each year fireworks cause an average of 1,300 structure fires, 300 vehicle fires and nearly 17,000 other fires, resulting in thousands of injuries.
For a festive 4th, follow these tips from the National Safety Council:
Never use fireworks while impaired by drugs or alcohol.
Never allow young children to handle fireworks.
Older children should use them only under close adult supervision.
Anyone using fireworks or standing nearby should wear protective eyewear.
Never light fireworks indoors.
Only use them away from people, houses and flammable material.
Only light one device at a time and maintain a safe distance after lighting.
Never ignite devices in a container.
Do not try to re-light or handle malfunctioning fireworks.
Soak unused fireworks in water for a few hours before discarding.
Keep a bucket of water nearby to fully extinguish fireworks that don't go off or in case of fire.
Andrew Weil, M.D.
Source:
Fireworks, National Fire Protection Association, nfpa.org/Public-Education/By-topic/Seasonal-fires/Fireworks