Is Amalaki Juice Worthwhile?
What can you tell me about the safety and effectiveness of amalaki juice?
Andrew Weil, M.D. | June 12, 2009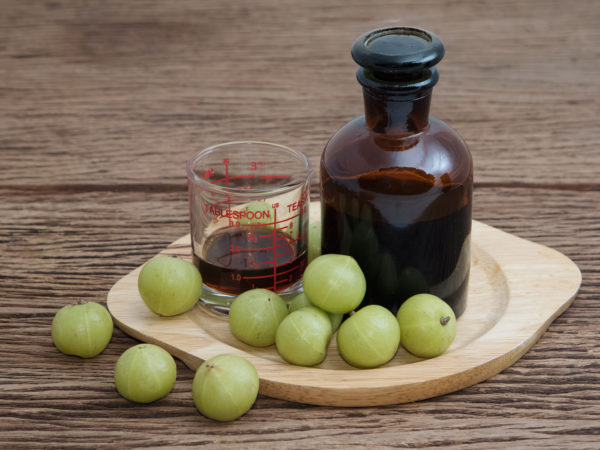 Amalaki juice is made from the Indian gooseberry (Emblica officinalis or Phyllanthus emblica). Commonly referred to as "amla," the juice is highly valued in traditional Ayurvedic medicine as a rasayana, or remedy for promotion of longevity. Amla is also one of the three ingredients in triphala, a bowel regulator from the Ayurvedic tradition that I recommend for constipation.
I discussed your question with Tieraona Low Dog, M.D., an internationally recognized expert in the fields of integrative medicine, dietary supplements and women's health, and an authority on botanical medicine. She told me that studies of amla have mostly been limited to test tube and animal experiments. Some of these investigations do suggest that amla has antioxidant, antibacterial, anti-inflammatory, liver-protective, and memory preserving activity. In addition, one small study from India published in 1988 found that it reduced serum cholesterol levels in men. The fruit is high in vitamin C, polyphenols and flavonoids, which probably account for some of the beneficial effects that have been observed. So, while the data are limited, they do provide support for some of the historical uses of amla, Dr. Low Dog said.
However, I don't think the minimal evidence base for its benefits supports all the non-traditional health claims now being made in advertisements for amalaki juice products, and it is no substitute for eating a healthy diet. I should add that amalaki juice is often sold through aggressive multi-level marketing; that is, you can buy them only through distributors who make money not just from their own sales but from those of the people they recruit. I'm sorry, but I am prejudiced against multi-level marketing schemes and urge you to avoid them when buying amalaki juice or anything else.
Andrew Weil, M.D.