Goji: A Miracle Health Drink?
Are you familiar with Himalayan Goji Juice? I have heard many health claims, including strong anti-aging effects for goji berries.
Andrew Weil, M.D. | December 11, 2008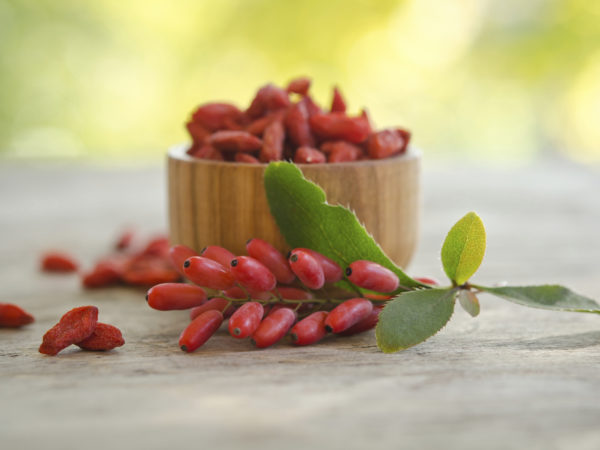 Goji berries seem to be the continuing rage among those who think a single food can accomplish nutritional miracles. The health claims being made for them and their juice are wide-ranging: anti-aging effects; implied benefits in the prevention and treatment of cancer, diabetes, arthritis, digestive problems; and, of course, weight loss, always a sure-fire way to attract customers. Although promoters mention "studies" that supposedly support these effects, to my knowledge no scientific studies investigating specific actions against disease have been published in peer-reviewed journals.
However, the fruit in question does have nutritional virtues. What's now generally called the goji berry is actually the wolfberry, Lycium barbarum L., a tart, reddish-orange fruit grown in central China (not, it appears, the Himalayas) for more than 2,000 years. It has exceptional nutrient density, and is especially rich in carotenoids including beta-carotene and lycopene. A report in the winter, 2004 issue of The Journal of the American Nutraceutical Association concluded that wolfberry juice has "high levels of antioxidants" and showed "beneficial immunomodulatory [immune-boosting] effects in mice."
So goji berries may be a worthwhile addition to a healthy diet if you enjoy their taste. On the other hand, goji juice is expensive – about $30 per half liter (18 ounces). If you follow recommendations to drink four ounces a day, a month's supply will cost you about $200, a high price to pay for nutrients that you can get from much less expensive fruits and vegetables such as familiar berries, tomatoes, and dark, leafy greens. In addition to my doubts about the unsupported health claims, I am prejudiced against the multi-level marketing through which goji products are sometimes sold. In these schemes, you buy them from distributors who make money not only through their own sales but those of the people they recruit.
My advice? If you are so inclined, consume goji berries or juice purchased from natural foods stores as a healthful, exotic treat. Don't view them as a miraculous substitute for an anti-inflammatory diet and a sensible lifestyle that includes exercise and stress-reduction.
Andrew Weil, M.D.