Food Desert: Healthy Eating on Campus?
I am a freshman in college and trying to eat healthy. However, it seems as if there isn't much variety when it comes to healthy foods. Do you have any advice for staying healthy while living on a campus that is a "food desert"?
Andrew Weil, M.D. | December 24, 2012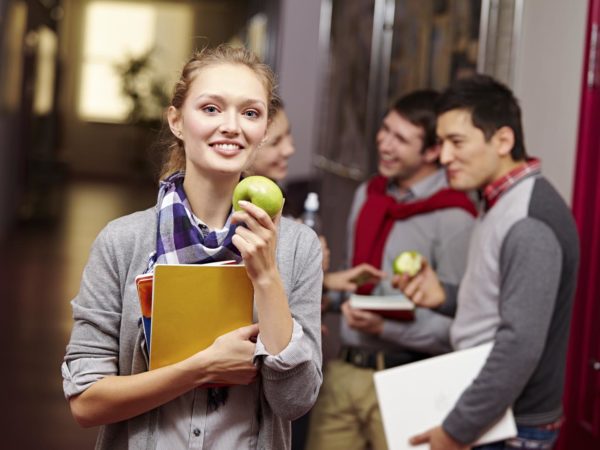 You pose an interesting question. In an effort to answer it, I did some online research to see what, if anything, has changed since the days when "mystery meat" was the unappetizing centerpiece of college dining hall dinners. I was pleasantly surprised to find that many colleges and universities appear to be making serious efforts to help students eat healthy meals, avoid the infamous (and probably mythical) "freshman 15"-pound weight gain, and accommodate vegetarian, vegan and gluten-free diets as well as the needs of students for kosher or halal foods.  I even came across a Huffington Post blog from 2011 on the 10 Healthiest Dining Halls in America, and I learned that in 2006 the University of California at Berkeley became the first certified organic kitchen at an American university.
Some of what I found online was educational, such as tips on healthy eating, identification of healthy choices among food options available in dining halls, healthy cooking tips for students living off campus, and lists of the menu offerings at nearby restaurants. I also came across a 2011 study by researchers at Oregon State University (OSU) showing that of 582 college students surveyed, most weren't eating a single serving of fruits or vegetables per day, were consuming too much fat (especially the male students), skipped meals frequently and weren't getting enough fiber. The researchers noted that all the students surveyed were at OSU where healthy options are available in dining halls. If that information is reliable, it's no surprise that some campuses remain "food deserts"; the student demand for healthier food simply may not be compelling enough.
One step you might take is to talk to the dietician in charge of the dining halls at your school. A registered dietician (R.D.) should be able to advise you on how to structure a healthy diet from local sources. You can also ask someone on the dining hall staff how particular menu items are prepared in order to avoid those that are high in fat, for example.
If there is a natural foods store nearby (Trader Joe's is a good option), you can check out the variety of meals in a cup and look for other instant meals that are easy to prepare. Be sure to read the ingredient lists and nutrition information on labels carefully.
You also could keep an eye out for fellow students with good eating habits and get their ideas. Joining forces with them could lead to an organized effort to expand healthy dining hall options.
Andrew Weil, M.D.