Can Chemical Fumes Affect Memory, Thinking?
I recently heard that exposure to fumes from paint and other chemicals can cause problems with memory and thinking as you get older. Do you know if this is true?
Andrew Weil, M.D. | June 17, 2014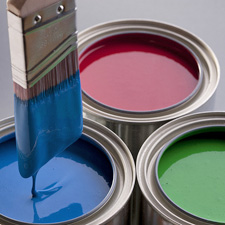 There are a lot of variables to consider, but it's true according to a study of French retirees who had long-term, on-the-job exposure to fumes from a number of different solvents and developed memory and thinking problems decades later. Among the chemicals linked to these changes are the chlorinated solvents used by dry cleaners. Suspected compounds are also found in paint removers and engine solvents, as well as petroleum solvents used in carpet glue, furniture polishes, paint, paint thinner and varnish; and benzene used to make dye, detergents, rubber, plastics, and other synthetic materials.
A total of 2,143 retirees from France's national utility company participated in the study conducted by French investigators and researchers from the Harvard School of Public Health. The team evaluated the retirees' lifetime exposure to solvents, including their most recent exposure prior to retirement. They found that 26 percent of them were exposed to benzene, 33 percent to chlorinated solvents, and 25 percent to petroleum solvents.
The researchers gave the participants eight tests of memory and thinking skills at an approximate interval of 10 years after retirement, when their average age was 66. The tests revealed that 59 percent had impairments that showed up on one to three of the eight tests, while 23 percent had impairment on four or more tests. Only 18 percent had no measurable impairment.
The researchers were able to determine the average lifetime exposure to the solvents based on company records; they then categorized the participants as having no exposure, moderate exposure (less than average) and high exposure (more than average). They also determined the timing of the last exposure. Those exposed from 12 to 30 years before taking the tests were considered as having recent exposure while those exposed 31 to 50 years earlier were considered to have had more distant exposure.
Retirees with high recent exposure to solvents had the greatest risk for memory and thinking problems. Those who had been exposed to chlorinated solvents were 65 percent more likely to do worse on tests of memory, visual attention, and task switching than participants who were not exposed. Those results held true even after the researchers accounted for such factors as the retirees' education level, age, smoking and alcohol consumption.
In a press release, study author Erika Sabbath said the participants with high exposure within the last 12 to 30 years "showed impairment in almost all areas of memory and thinking, including those not usually associated with solvent exposure." She added: "We also saw some cognitive problems in those who had been highly exposed much longer ago, up to 50 years before testing. This suggests that time may not fully lessen the effect of solvent exposure on some memory and cognitive skills when lifetime exposure is high."
Ominous as these findings are for workers who have been exposed to fumes from solvents on a regular basis for years, they do not suggest that the rest of us with occasional, short-term exposure to fumes from paint, gasoline and other common chemicals, should worry. (However, some common household chemicals do emit harmful fumes that warrant action and concern.)
I hope that the memory and cognitive problems that came to light in this study will be addressed by policy makers to help protect workers who are routinely exposed to toxic fumes.
Andrew Weil, M.D.
Source:
Erika L. Sabbath et al, "Time may not fully attenuate solvent-associated cognitive deficits in highly exposed workers." Neurology, 2014; 82 (19): 1716 DOI: 10.1212/WNL.0000000000000413