Bad Blood Test?
My husband had a blood test recently because of a general feeling of declining fitness, shortness of breath and lack of stamina. It showed low hematocrit and hemoglobin levels. Besides taking an iron supplement what should he do?
Andrew Weil, M.D. | November 13, 2008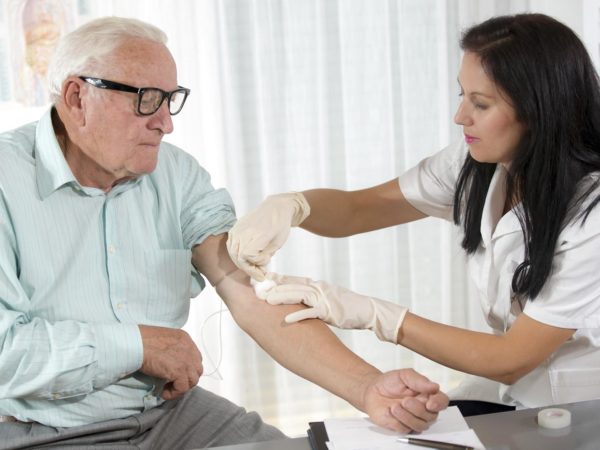 Hematocrit and hemoglobin are two measurements obtained in a complete blood count, a lab test done on a blood sample. Hematocrit tells you the proportion of blood made up of red blood cells. This level drops if the body's production of red blood cells declines, or if they are being lost from the bloodstream. The most common cause is bleeding somewhere in the body, but low hematocrit can also stem from vitamin or mineral deficiencies, cirrhosis of the liver and, possibly, malignancies. Hematocrit can be abnormally low in people who are malnourished, have a chronic illness or an inherited blood disorder.
Hemoglobin is the oxygen-carrying red protein of blood. Low hemoglobin levels also most commonly reflect blood loss from chronic bleeding, but like hematocrit, may also indicate that the body has reduced its production of red blood cells.
The usual explanation for low levels of hematocrit and hemoglobin is an ongoing loss of blood in the gastrointestinal tract. Your husband should have a thorough medical workup to identify the cause so that it can be treated properly. Unless his physician already has determined that iron deficiency anemia is the sole reason for the low hematocrit and hemoglobin levels, taking iron supplements amounts to putting a Band-Aid on the problem. Except for women having regular menstrual periods and individuals who have had a significant loss of blood, no one should take supplemental iron unless tests have established iron deficiency anemia. Iron is one of the few minerals we cannot eliminate, and accumulations in the body can rise to toxic levels. Iron is an oxidizing agent that can increase risks of cancer and cardiovascular disease.
Andrew Weil, M.D.