Are Cigarette Butts an Environmental Health Threat?
I've heard that cigarette butts tossed outdoors add up to a big toxic waste problem, and that the filters are not biodegradable and don't even reduce the health risks of smoking. True?
Andrew Weil, M.D. | December 12, 2014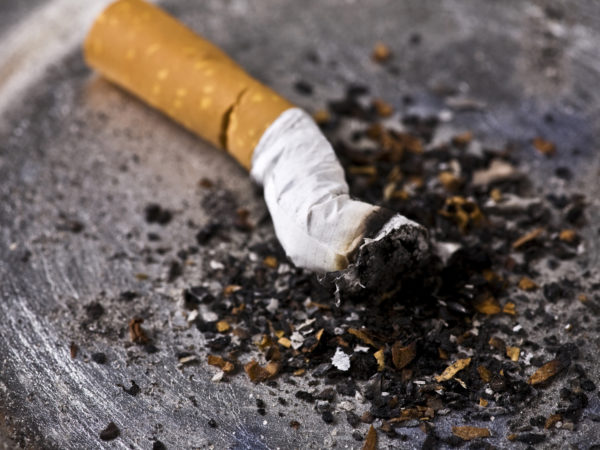 You heard right. The scope of the environmental and human health impact of cigarette butt waste isn't fully known. We do know, however, that butts represent between 25 to 50 percent of all the trash collected on streets and roads in the U.S., and that as many as five trillion butts are dumped into the worldwide environment every year.
The butts contain all the toxins found in cigarettes, including nicotine, the carcinogens formaldehyde and benzene, as well as pesticides, herbicides, fungicides and rodent poisons used to grow tobacco. These chemicals can leach into salt and fresh water and are toxic to fish. One study found that the chemicals leached from a single cigarette butt killed half the fish in a tank in a research laboratory.
So far, very little attention has been paid to this issue. I found only three studies when I checked the medical literature. In one of them, a 2014 review published in the journal Current Environmental Health Reports, Thomas Novotny, a professor of epidemiology at San Diego State University, reported that cigarette butts account for the largest percentage of waste (approximately 19 to 38 percent of total waste products) collected globally during annual coastal clean ups.
Dr. Novotny also noted that a San Francisco street litter audit found that 24.6 percent of all litter items collected were from tobacco products including butts, wrappers and packages. What's more, he reports that bans on indoor smoking have exacerbated the accumulation of tobacco product waste outdoors. Another study found that smokers habitually throw their cigarette butts in the street even when trashcans were available.
Dr. Novotny also estimated that in the U.S. in 2011, the waste from cigarette smoking would add up to 55,000 tons. All this waste constitutes a potential risk to human health. Rain and the water from street cleaning washes the refuse into storm drains and then into the larger aquatic environment. Dr. Novotny notes that much more research will be needed to explore the actual danger the toxic wastes from cigarettes presents to aquatic environments as well as its effects on human health.
You asked about cigarette filters. Yes, it is true that filters do not reduce smokers' exposure to tar and nicotine. The National Cancer Institute reviewed this issue in 2001 and concluded that the evidence from scientific and epidemiological studies does not show a public health benefit from "changes in cigarette design and manufacturing" (i.e. filters) over the last 50 years. Nevertheless, 99 percent of cigarettes sold in the U.S. are filtered.
A number of solutions have been put forward for dealing with the tobacco waste problem. One is to hold tobacco companies responsible for the cleanup via laws similar to those requiring manufacturers to recycle or dispose of such hazardous products as batteries, fluorescent lighting, paint and pesticide containers. Another idea: adding a "butt deposit" to the cost of cigarettes similar to the bottle deposit consumers in some states must pay on bottles of soft drinks and water. Here, the deposit would be returned when the smoker presents all the butts from a smoked pack of cigarettes.
Dr. Novotny notes that California may be ahead on this issue – a law to ban the sale of filtered cigarettes has been proposed. That would be a start.
Andrew Weil, M.D.
Sources:
E. Slaughter et al, "Toxicity of cigarette butts, and their chemical components, to marine and freshwater fish." Tobacco Control, May 2011, doi: 10.1136/tc.2010.040170.
Thomas E. Novotny, "Tobacco Product Waste: An Environmental Approach to Reduce Tobacco Consumption." Current environmental health reports, May 6, 2014
U.S. National Cancer Institute. Tobacco Control Monograph No. 13. Bethesda, MD: US Department of Health and Human Services, Public Health Service, National Institutes of Health, National Cancer Institute, 2001:13. Accessed September 17, 2014