Revere the Radish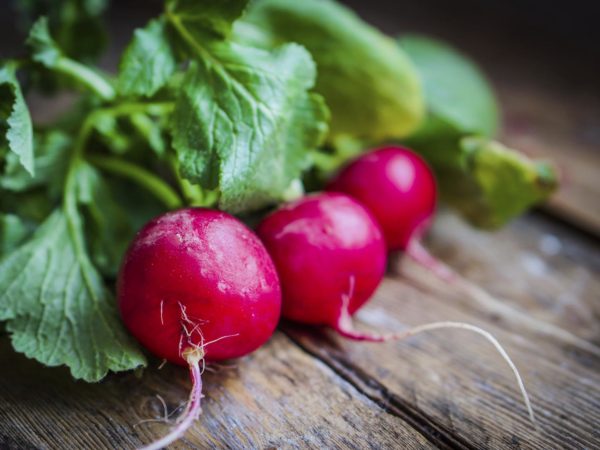 Dr. Weil's century-old ranch house is spectacular in many ways, and one of its crowning glories is its refrigerator. It's actually a walk-in, built to hold sides of beef back in the days when this was an active cattle ranch. On a summer day when the temperature climbs past 110, it's always a thrill to step into that frigid space. And whenever I go in it to drop off some freshly harvested produce, I can always count on sneaking a fresh, cool radish from a bowl he keeps inside.
Radishes are a great snack. Their crisp, spicy bite clears the palette. They are very low in calories, and quite nutritious, especially if you eat the whole plant. Though the root contains vitamin C, a radish top contains nearly six times as much as the root. The fresh tops can be added to a salad. Be aware that cooking the root destroys much of the vitamin C content.
The radish, Raphanus sativus, comes in many shapes and sizes. There are several cultivars (cultivated varieties) available from seed companies. At Dr. Weil's ranch, we grow Cherry Belle and French Breakfast. These are both summer varieties. Winter varieties should be planted in northern climates in midsummer for autumn harvests. The winter varieties I've grown include Black Spanish Long and China Rose. In general, we stick to summer varieties because of their mild flavor and quick growth.
Intercropping means growing two crops in the same bed, exploiting the fact that they grow at different rates. I usually sow radish seeds between carrot and parsnip seeds. The radishes grow quickly enough to avoid interfering with the carrots. I also plant them between lettuce rows. (Keep in mind that intercropping is different from companion planting, which is a technique to grow two kinds of plants at the same time. For instance, you can grow pole beans and train them to climb corn stalks. The beans get support, and the corn gets nitrogen fixed by the bean's roots, so both benefit.)
Depending on the time of year, radishes can mature in as little as three weeks – that's as close to instant gratification as vegetable gardening gets. They seem to like a well-drained soil with an open, sunny exposure. The soil need not be too deep or too rich for smaller radish varieties. Growing them in too shady a spot will lead to disappointment. The tops will grow but the roots will not develop.
Once mature, they should be picked and eaten immediately. They keep in the refrigerator for only a short time. If they are left in the ground too long, they get woody and extremely spicy, and will often attract aphids. On the other hand, if you notice white runnels through the top of the red skin, this is superficial damage from a snail and should not be worried about.
Growing daikon radish is very similar to growing smaller varieties, except that they are bigger and hence require more space. Some varieties of daikon can grow up to, or down to, three feet in length and have been reported to weigh as much as 100 pounds. Asian cuisines rely heavily on the daikon, and it seems to occupy an honored place in some Asian cultures. In Spirited Away, a Japanese animated movie Dr. Weil recommended to me, one of the supporting characters is a walking, talking daikon.
But reverence for the radish is not unique to Asian cultures. Throughout Oaxaca, Mexico, every December 23rd marks the Night of the Radishes (Noche de Rabanos) in which artists carve giant radishes into biblical scenes.
Sprinkling a few seeds in your garden weekly in the growing season will allow you to enjoy crop after crop of red radishes. Keeping a bowl of red radishes in your refrigerator, like Dr. Weil does, is a great idea. They make a healthy, quick snack that crunches, as you'd expect any self-respecting snack food to do.
By Jace Mortensen, Guest Commentator
DrWeil.com News