Miso Pate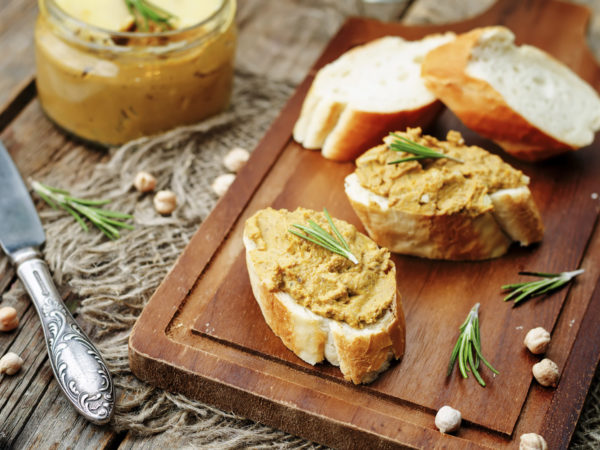 Nutrition
Serves 10
Nutrients Per Serving:
Calories 266
Fat 14.2g
Saturated Fat 2g
(48% of calories from fat)
Protein 9g
Carbohydrate 28g
Cholesterol 0mg
Fiber 5g
This recipe is from THE HEALTHY KITCHEN – Recipes for a Better Body, Life, and Spirit by Andrew Weil, M.D and Rosie Daley (Knopf)
This is a perfect heart-healthy treat that's worth making for a fancy dinner!
This appetizer is a bit more complicated than the other dishes I've devised for this book, but it's worth making for a fancy dinner. It's a vegetarian answer to chopped liver that will make the chickens thank you. It also happens to be a heart-healthy treat, since it has none of the saturated fat of a pâté made from meat or poultry. The texture and flavor will develop as the mixture rests for a day after you put it together, so please resist the temptation to dig into it prematurely!

Ingredients
1 loaf good-quality whole wheat bread, sliced (OK if stale)
1 cup unsalted vegetable broth
1 cup tahini
1 1/2 tablespoons red, mugi or hatcho miso
1 tablespoon toasted-sesame oil
2 cloves garlic, mashed
1 medium onion, finely chopped
1/2 cup chopped fresh parsley
3 tablespoons dry sherry, or more as needed
Dashes of thyme, sage or rosemary, and allspice
Freshly ground black pepper to taste
Instructions
1. Preheat oven to 250° F
2. Place the bread slices on a baking sheet and bake them until they are thoroughly dry, about 45 minutes. Let the bread cool, then break it into pieces. You should have about 4 cups of pieces. Put the bread and broth in a bowl and work it with your hands until evenly moist.
3. In a separate bowl, mix the tahini, miso, garlic and sesame oil until well blended. Add to the moistened bread and work everything together well using your hands. Add the onions, parsley and sherry.
4. Season well with thyme, sage or rosemary, allspice and pepper. Add a few more tablespoons of sherry if needed and knead with your hands until pate is well blended. Add a little more liquid (broth or water) if necessary, to make a moist, sticky consistency.
5. Pack the pate firmly into a small loaf pan or bowl. Cover and refrigerate for 24 hours. (This is important!)
6. Remove the pate from the refrigerator at least a half-hour before serving. Un-mold it and serve with crackers.
Want more healthy, delicious recipes? Join the Dr. Weil on Healthy Aging online guide for access to hundreds of anti-inflammatory recipes and our exclusive eating guides. Sign up today and get 14 days free!