Mediterranean Stuffed Grape Leaves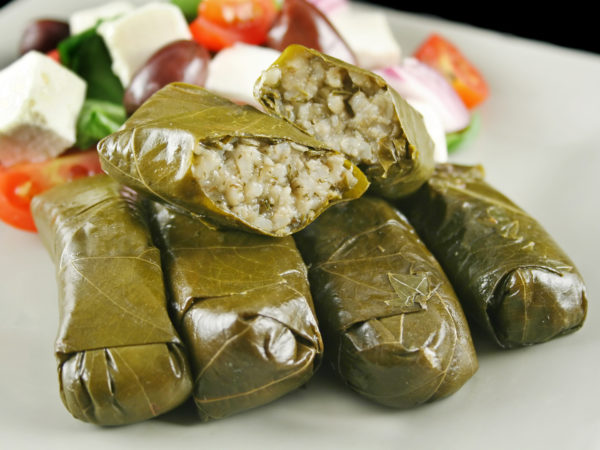 Nutrition
Serves 12
Nutrients Per Serving:
Calories 110.9
Fat 4.4g
Saturated Fat 0.7g
(34.4% of calories from fat)
Protein 2.5g
Carbohydrate 16.6g
Cholesterol 0mg
Fiber 1.3g
This recipe is from THE HEALTHY KITCHEN – Recipes for a Better Body, Life, and Spirit by Andrew Weil, M.D and Rosie Daley (Knopf)
This easy, exotic Greek treat makes a fine appetizer or side dish with lunch or dinner.
This easy, exotic Greek treat makes a fine appetizer, but it can also be enjoyed as a side dish with lunch or dinner. The raisins and mint give the rice a sweet and aromatic taste, and the simplicity of chive "ribbons" wrapped around the grape leaves dresses them up a bit. For hors d'oeuvres, use 36 leaves and 1 ½ tablespoons of filling for each leaf.
Food as Medicine
Brown rice, which provides much of the stuffing in this recipe,  is a significant source of manganese, a mineral that helps the body to produce a crucial antioxidant enzyme called superoxide dismutase (SOD). SOD helps to protect mitochondria, the energy producing parts of cells, from free radical damage.
Ingredients
FILLING:
2 cups vegetable stock or purified water
1 cup brown rice
1 teaspoon salt
1/3 cup grated radish
1/3 cup chopped scallions or green onions
1/2 cup minced celery
3/4 cup chopped fresh mint leaves
2 tablespoons olive oil
2 teaspoons white wine vinegar
2 teaspoons freshly squeezed lemon juice
1/3 cup currants or yellow raisins
1/4 cup pine nuts
1/4 teaspoon freshly ground black pepper
1 pinch salt (optional)
1 tablespoon capers
36 grape leaves
1 bunch chives
1 teaspoon extra-virgin olive oil
1 tablespoon lemon juice
Instructions
1. Bring the stock or water to a boil in a large pot. Add the rice and salt. Reduce heat and simmer, covered with a tight-fitting lid, for 45 minutes. All the water should be absorbed. Fluff the rice with fork.
2. Mix together the rice and all the other filling ingredients in a large bowl, tossing thoroughly with a spoon.
3. Rinse the grape leaves. Spread the grape leaves out and spoon 1 ½ tablespoons of the filling on the end of each leaf, and then roll up, folding the outer edges in.
4. Take three 5-inch-long chives and dip briefly in boiling water to make them more pliable. Tie them around each stuffed grape leaf.
5. Place the leaves in a small casserole dish and drizzle 1 teaspoon olive oil and 1 tablespoon lemon juice over them. Cover with foil and bake for 10 minutes at 350° F. Serve warm or cold.
Makes 36 grape leaves – 3 per person.
Tips from Rosie's Kitchen:
Grape leaves are not readily available fresh, so you will have to buy them bottled or canned. They are packed in brine, a salty solution that you'll want to rinse off before using. Gently lift the leaves out of the jar, lay them in a bowl, and run them under a soft stream of water, letting the water completely drench the leaves. To dry, lay the leaves in a colander and let them drain, or lay them on a flat surface and pat dry with a clean cloth.