Kasha With Vegetables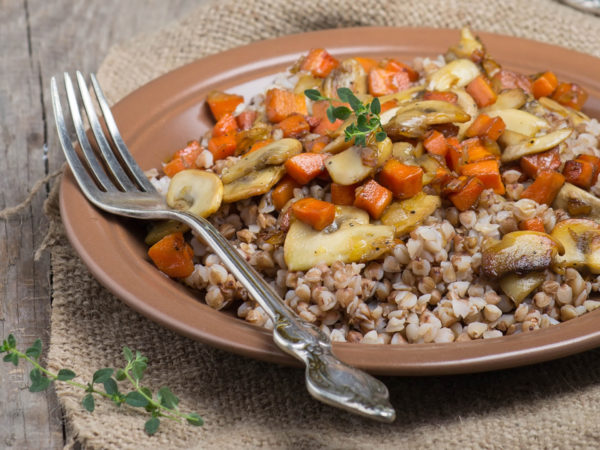 Nutrition
Serves 4
Nutrients Per Serving
Calories: 147.2
Protein: 5.9 grams
Fat: 1.1 grams
Saturated Fat: 0.2 grams
Monounsat Fat: 0.2 grams
Polyunsat Fat: 0.4 grams
Carbohydrate: 31.7 grams
Fiber: 5.1 grams
Cholesterol: 0.0 mg
Vitamin A: 5,105.4 IU
Vitamin E: 0.5 mg/IU
Vitamin C: 5.4 mg
Calcium: 21.9 mg
Magnesium: 74.9 mg
Kasha has a wonderfully nutty flavor and is hearty, but not too heavy!

Kasha boasts a wonderfully nutty flavor. You can buy it already toasted. If you buy the untoasted variety, toss it lightly in a dry skillet over medium heat until it colors. Hearty, but not too heavy, kasha is a staple of Northern Europe and Russia that is traditionally served as an accompaniment to meats, in pilafs or as the essential ingredient in traditional Jewish dishes like kasha varnishkes. Exotic though it may sound, kasha is just basic buckwheat groats, used like a grain, but botanically just a cousin of true grains. Once only available through specialty grocers, you'll find kasha in many health food stores and supermarkets now as well. So, by all means, go nuts with kasha.

Food as Medicine
Buckwheat is rich in flavonoids such as rutin, which helps protect against heart disease by preventing platelet aggregation and cholesterol oxidation. One cup of cooked buckwheat also contains 85 mg of magnesium – over 20 percent of the Daily Value – a mineral that relaxes blood vessels and increases blood flow, which may result in lower, healthier blood pressure levels. Like all whole, intact grains, buckwheat is high in dietary fiber, which is known to reduce the risk of high blood pressure, heart attack and heart failure; one study found that men who consumed a daily morning bowl of whole grain cereal had a 29 percent lower risk of heart failure than those who did not.
Ingredients
2 ounces dried mushrooms
1 cup toasted buckwheat groats (kasha)
1 large carrot, sliced
1 medium onion, coarsely chopped
Salt or natural soy sauce to taste
Instructions
1. Soak the dried mushrooms (shiitake or porcini are very flavorful) in water until soft.
2. Drain, saving the soaking water, and slice, discarding any tough portions.
3. Add the groats to 3 cups boiling water (including the mushroom-soaking liquid), lower heat, and add the carrot, the onion and the mushrooms.
4. Cover and simmer until water is absorbed. Add salt or natural soy sauce to taste.
Want more healthy, delicious recipes? Join the Dr. Weil on Healthy Aging online guide for access to hundreds of anti-inflammatory recipes and our exclusive eating guides. Sign up today and get 14 days free!