Vegetable Oils To Avoid?
Are some vegetable oils less healthy than others?
Andrew Weil, M.D. | October 14, 2022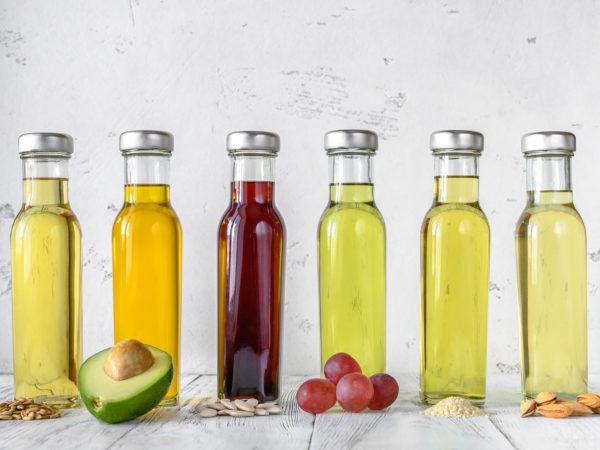 Vegetable oils are derived from plants — fruits, seeds, grains, and nuts. Those that are derived from seeds and grains — such as sunflower, safflower, and corn oils — are typically high in linoleic acid, a polyunsaturated, omega-6 fatty acid that's been shown to increase inflammation in the body. Although seed oils were widely introduced into our diet only in the last century, they are now among the most consumed foods in the world. Today, you'll find them, especially cheap, refined soybean oil, in almost all processed foods, from packaged snacks and fast food to baby formula.
There are two major reasons to avoid seed oils. The first is their effects on health. It's no coincidence that the worldwide incidence of cardiovascular disease, diabetes, and other chronic conditions has risen steadily along with consumption of seed oils. While small amounts of omega-6 fats are necessary for optimal health, too much of them contributes to chronic inflammation. That's especially true if you're consuming more pro-inflammatory omega-6 fats than anti-inflammatory omega-3 fats — something that's all too easy these days. The linoleic acid in vegetable oils also oxidizes easily — especially when heated — which can lead to cellular damage from free radicals.
The other reason I recommend avoiding seed oils is only recently becoming more widely known. Their production has a major impact on the environment: It's a leading driver of mass deforestation, soil erosion, water consumption, carbon emissions, and loss of biodiversity. In fact, two of the top three contributors to global deforestation are seed oils.
In my opinion, some of the worst of these — both for your health and for the health of the planet — are sunflower, safflower, corn, cottonseed, soy, rice bran, and canola oil. Instead, I recommend using fruit oils (olive and avocado) and the newly available cultured oil made from fermented cultures of micro-organisms, all of which are high in healthy monounsaturated fat.
Andrew Weil, M.D.
Source
Caporuscio J. "What are the most healthful oils?" Medical News Today, March 30, 2019. https://www.medicalnewstoday.com/articles/324844