Healthy Breakfasts From Facebook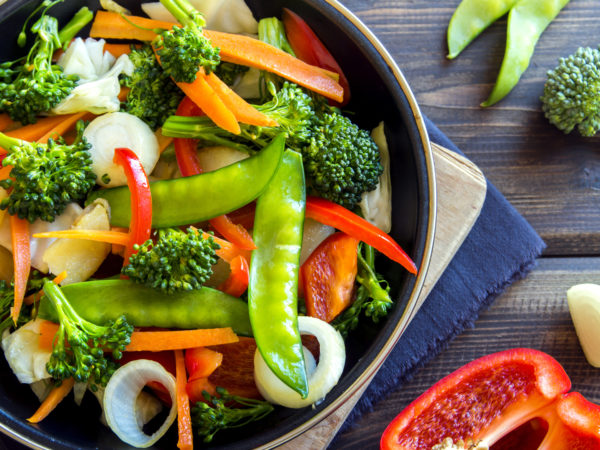 I've had a Facebook page for many years now, and have greatly enjoyed the chance to hear from so many enthusiastic and knowledgeable people. I recently posted a photo from a breakfast that I enjoyed at the Nutrition and Health Conference recently. At this annual conference – co-sponsored by the Arizona Center for Integrative Medicine, which I founded in 1994 – the world's top nutrition scientists present their latest findings to medical doctors and other health care professionals. We always take great care to provide attendees with healthy meals. This one, for example, provides plenty of omega-3 fatty acids via the smoked salmon; fiber in the form of wholegrain sourdough bread, vitamins and more fiber in the fruits, and powerful antioxidants in the green tea and cranberry juice. And it was delicious!
Facebookers approved. "Now that's my kind of breakfast!" said one. But when I asked them to share their own favorite healthy breakfast ideas, I was just as delighted by their contributions.
So please see their favorite breakfast ideas below, lightly edited for spelling and length. The categories are only rough guides, as there is plenty of overlap in the foods listed. But if you, like many, have been challenged in your quest for a healthy breakfast, you are sure to find some inspiration here. Thanks to all who contributed!
Breads
Oat bran fruit muffins made with oat bran, cinnamon, egg whites, plain yogurt and chopped apples, blueberries, or applesauce. Throw in chopped walnuts or almonds if desired.  Brenda
Avocado, goat cheese, and anchovies on toast with orange juice (or green tea). Luma
Lately been enjoying a Morningstar soy sausage patty on a whole wheat English muffin with a sprinkle of cheddar. Kim
Whole grain toast, strong whole-grain mustard with slices of avocado or pickled herring. Jennifer
Whole wheat bread slathered with almond butter and topped with sliced banana. Organic, shade-grown, fair trade coffee with vanilla soymilk.  Anne
Organic cinnamon raisin bread with organic almond butter and organic berry preserves. Organic coffee, too! Barbara
This morning I enjoyed a slice of hearty whole wheat bread with a smear of peanut butter and ground flax seeds. Janet
Pecan rice toast with local goat cheese, blueberries and agave syrup drizzled on top. Sometimes I'll replace the blueberries and agave syrup with lots of fresh parsley, chives and rosemary. Lauren
Blueberry, spinach pancakes with fresh strawberries! Really are the best! And the other would be flax-flake-coated apple cinnamon French toast, topped with a mix of fresh berries. Debbie
Whole wheat toast topped with organic butter, nutritional yeast and avocado! Gillian
Wholegrain waffles with blueberries and maple syrup. Sandy
Wholegrain bagel (Panera's are good) with almond butter and apple slices or berries. Fadoua
Lightly toasted sourdough bread with homemade organic mayonnaise, homemade pesto, sliced avocado, alfalfa, salad leaves, thinly sliced tomato, black pepper and oregano… Mmmm.. Jacqueline
Living in Japan, occasionally I just have to have my American scrambled eggs, bacon and whole-wheat toast with blueberry jam, a glass of orange juice and a small cup of coffee. But usually I have the toast with some salad and some fruit and some green tea. Daniel
Eggs
Two poached omega-3 eggs over 1/4 avocado drizzled with a little balsamic or fresh lemon. Julie
Free-range egg fried in just a touch of olive oil or safflower oil, topped with cheese from an organic farm and nestled on a toasted sprouted-grain English muffin…. served with a few strawberries or blueberries and washed down with green tea or water. Wendy
2 egg whites, 2 pieces of turkey bacon and sliced cucumbers or tomatoes- sometimes slice of multigrain toast. Michelle
I love egg-white omelets with lots of vegetables. Cottage cheese with fresh fruit is another favorite.  Lisa
Fish
Our daughters love a morning when we have smoked wild Alaskan salmon with berries and French toast.  Arnie 
Non-gluten toast with coconut oil, a poached egg, slice of smoked salmon, bowl of blueberries, oatmeal with cinnamon. Kat
Poached egg over smoked salmon on a multigrain toast. Topped with thinly sliced red onion and capers. Side of seasonal fruit 🙂 yum!!! Marissa
Fruit
I like a container of "berry" yogurt with cut up extra berries and a banana, and a multiple-vitamin. Dirk
Banana and Brazil nuts with natural yogurt. Katy
Unsweetened yogurt with fresh fruit. Milton
I like organic low-fat plain yogurt blended with frozen blueberries. Tastes just like ice cream! Connie
Smoothie: mango, blueberries, banana, dilute cranberry juice, yogurt and sometimes some psyllium for fiber and/or almond milk and/or honey for flavor… Angie
I typically start my day with fresh assorted fruit and some granola. Good start to my day! Shawny
An organic apple smeared with 2 Tbs. of natural peanut butter (by natural I mean, nuts and nuts alone!) Susan
Lentils with garlic, turmeric, cinnamon, mint and spinach (my own concoction) on na'an with a dollop of plain organic yoghurt, or steel cut oats with grated ginger and cinnamon, teaspoon of honey and dried blueberries. Whitney
Scrambled tofu with lots of vegetables and some brown rice…and of course a cup of kukicha tea. Ulla 
Oatmeal
Healthy whole grain cold cereal with blueberries one day and oatmeal with blueberries the next. Ella
Oatmeal, goat milk, trail mix, and maple syrup…one of the best things ever. Mark
Thick-cut oatmeal cooked with 1/2 water, 1/2 almond milk; topped with toasted walnuts, unsweetened coconut and drizzle of maple syrup. Lilan
Oatmeal with apples and walnuts. I dice an apple and throw it in before cooking. I toss in a handful of walnuts and top with a smidgen of honey before eating. I enjoy with hot black coffee. Patty
Hot bowl of oatmeal, wild blueberries, ground flax seeds, walnuts, a little brown sugar and topped with plain yogurt…mmmmm. Meg
Believe it or not…oatmeal! I can add all kinds of dried fruit, fresh fruit, jams, nuts, trail mix, soymilk, yogurt, and make it different every day. Dari
I have oatmeal almost daily with cinnamon, raisins, brown sugar, walnuts, blueberries and soymilk. JoAnn
Oatmeal with bananas and walnuts and soymilk. Jill Arnold
Oatmeal with blueberries, strawberries and banana. YUM. Madeline
Irish oatmeal, almond milk and fruit. Linda
Steel-cut Irish oatmeal, fresh fruit, and walnuts. With Starbucks on the side. . . tee hee. Cynthia
1/2 cup oatmeal made on the stovetop with dried cranberries, walnuts and either raw honey or brown sugar. Also, a fruit and spinach smoothie that my husband makes for me each day! Nea
Irish oatmeal, soymilk and fresh fruit! Debbie
Irish oatmeal with sheep's milk and fresh fruit, and black tea! Keeps me going strong all morning! Tracey
Organic steel cut oatmeal with unsweetened shredded coconut flakes, cran-raisins and fresh or frozen blueberries…and hot lemon water. If I'm really hungry (I am still nursing my 17 month old son) I add turkey sausage as a treat!!! Stacey
My favorite is 1/2 cup old fashioned oatmeal with Brown Cow fat-free blueberry Greek yogurt and some ground flaxseed mixed in. That is so delish and it keeps me filled well into the afternoon! April
Irish oats, soymilk, maple syrup, and flax seeds. Wendy 
I like old fashioned oats cooked with almond milk, a few slivered almonds tossed in, and dried apricots. After cooking, I stir in 2 tablespoons of ground flaxseed meal, one teaspoon of maple syrup and one teaspoon of peanut butter. Delicious! JoAnne
My allergies are off the chart so healthy meals are hard. No fruit other than citrus, blueberries and blackberries, no tree nuts, no shellfish, no soy . . . It is difficult. Breakfast usually is organic yogurt, I put steel cut oats on the night before so they are somewhat chewy. At times I put blueberries or blackberries in too. Katrina
Steel cut oats with some ground flaxseed, dried cranberries and a mix of nuts sprinkled on the top; along with a strong cup of English Breakfast tea. Heavenly. Nana
Steel cut oats with soy yogurt (cinnamon and turmeric mixed into the yogurt), blueberries (or other fruit), then topped with chopped walnuts, flaxseeds, chia seeds (or other seeds, nuts). Yummers. Sweetened with agave if necessary. Oh, and maybe some dark chocolate chips. Nummers! Edith
A friend taught me how to make hot cereal in the rice cooker. We toss in cracked wheat or rolled oats, water, slivered almonds, flax seeds and dried fruit. In just a few minutes? We have a delicious hot breakfast. Vickie
Other Whole Grains
Tofu, brown rice, pineapple and yogurt. All mixed together. Matt
Unsweetened goat yogurt or brown rice (or quinoa) porridge boiled with plenty of fresh ginger topped w/fresh mix of cilantro and scallion, and Himalayan sea salt, pumpkin seeds, sesame and sunflower seeds…it 's really heavenly and jam-packed w/nutrients giving plenty of energy. Susan
I made what will become my new favorite this morning: leftover brown rice from last night's dinner, topped with unsweetened vanilla soymilk, a handful of blueberries, and a sprinkling of ground flaxseed….In the microwave for a minute or so….YUMMY!!  Carol
Blueberries on Kashi cereal with flax seed, and organic soy milk. Nancy
Muesli with plain yogurt, nuts, raisins, and fresh fruit in season. (I lived in Switzerland many years ago and muesli has been a favorite ever since.) But sometimes I eat organic scrambled egg with tofu bacon and a flax seed waffle with organic maple syrup. Karen
Organic quinoa made with coconut milk, honey, raisins, almonds, pecans, cinnamon, vanilla extract, dash of coconut oil and flakes. And a strawberry and blueberry smoothie. Jill-ann
Vegetables
When I'm in a rush, I'll have one avocado. Jo Ann
Mixed green salad with lots of varieties of veggies, tuna or legumes for protein and some kind of light dressing. It stays with me for hours. Annie
Green leafy vegetable cooked with wakame and coconut oil, or boiled beets served with homemade organic yogurt and sprinkled with flax seed/ wheat germ. Tati
My favorite breakfast ever since childhood is something that was commonly eaten in southern Italy for breakfast and as a snack: "pane e pomodoro" (bread and tomato)……day old thick crusty bread, ripe small tomatoes cut and rubbed on both sides, dried oregano… more sprinkled on top, extra-virgin olive oil, and salt. I'm going to Italy in a couple of days and will be chowing down on it…..yes I can eat it here too, but it tastes better in Italy!! Anna Maria
I have to say, a homemade smoothie with organic soymilk and frozen berries along with eggplant and spinach with fresh garlic over a piece of sesame bread. I know it doesn't sound like breakfast….lol. Natalie
Yogurt
I love Greek yogurt with raw honey, blueberries on the side. Christine
Cup of Fage (Greek) yogurt- mixed fruits (berries) – rolled oats and a cup of chocolate soy milk!!!!!! Ulrike
Thanks much to all who contributed! And finally, here are a few more breakfast ideas from my True Food Kitchen restaurant.