Are Ancient Grains Better?
I keep hearing about ancient grains, but I'm not sure what they are or if they're really better for health than whole grains in general. Can you help me out with this?
Andrew Weil, M.D. | September 27, 2016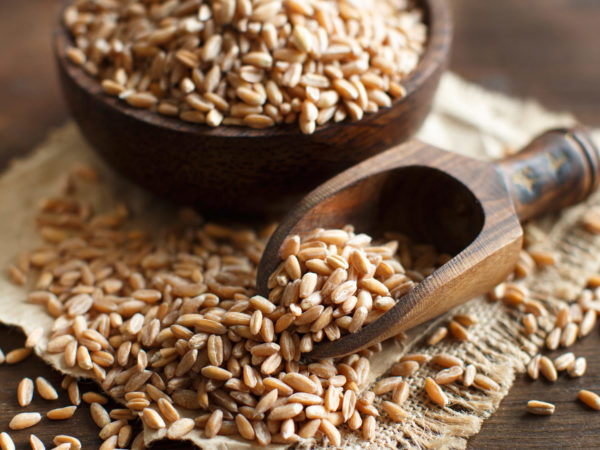 The designation is primarily a marketing term, but it reflects the fact that there are many types of modern wheat that have been modified and crossbred over the years. In theory, ancient grains are those that haven't changed over the centuries. Although most never actually disappeared, their commercial profile was low until relatively recently, when high-end chefs started searching for novel, more flavorful grains that might provide more protein and other nutrients than modern wheat. Many of these newly rediscovered grains can be sustainably grown on small-scale farms.
Here's a rundown of a few grains now identified as ancient.
Amaranth: A high-quality source of plant protein, amaranth provides two essential amino acids, lysine and methionine, which grains generally contain little of. It also provides iron and calcium and triple the fiber content of wheat. It is gluten-free.
Barley: The oldest known domesticated grain, barley comes in hulled and pearled varieties. The pearled type is more refined, easier to find, and the one most recipes specify. One cup of cooked barley provides 13 grams of insoluble fiber, which helps maintain large populations of friendly bacteria in the digestive tract. Barley may help lower cholesterol and regulate blood sugar. It contains gluten.
Buckwheat: Known as kasha when it's cracked and toasted, buckwheat has a nutty flavor. Considered a heart-healthy food, buckwheat is high in the antioxidant rutin, a flavonoid that strengthens capillaries and prevents blood clotting. One cup cooked provides more than 20 percent of the daily value of magnesium, which can lower blood pressure. It is the main constituent of Japanese soba noodles. Buckwheat is gluten-free.
Farro: Also called "emmer," farro is a strain of hard wheat from the Fertile Crescent in the Middle East. It has a nutty flavor and distinctive chewy texture. Farro is higher in protein and fiber than ordinary wheat and rich in magnesium and B vitamins. It contains gluten. When buying, choose semi-perlato farro, which has more of the fiber and nutrient-rich bran than the fully pearled form.
Kamut®: A brand name for a recently revived strain of wheat known as khorasan, Kamut® is always grown organically. It has large kernels with a sweet, almost buttery flavor. It is high in minerals including selenium, zinc, manganese and magnesium and has 20 to 40 percent more protein than regular wheat: a half-cup serving gives you 6 grams of protein and 140 calories. It contains gluten.
Quinoa (pronounced "keen-wah") is not a true grain but the seed of a plant related to beets, spinach and Swiss chard. Available in light brown, red and black varieties, quinoa has a mellow flavor and appealing texture. It is high in magnesium and a good source of manganese, iron, copper, phosphorous, vitamin B2 and other essential minerals, as well as providing the highest protein content of any grain. Quinoa's protein is complete, containing all 9 essential amino acids. It is gluten-free.
Spelt: A form of wheat and one of the first grains to be used for bread, spelt has been cultivated for more than 7,000 years. It is high in manganese, vitamin B2, niacin, thiamin and copper and is considered particularly heart-healthy because it protects against high cholesterol and platelet aggregation, both risk factors for cardiovascular disease. The fiber in it helps reduce total and LDL ("bad") cholesterol levels. One-half cup of cooked spelt provides 4 grams of fiber and only 123 calories. It contains a moderate amount of gluten.
You can find basic cooking instructions as well as recipes for these ancient grains and learn about some others on my website.
Andrew Weil, M.D.