Cooking With Spices: Mustard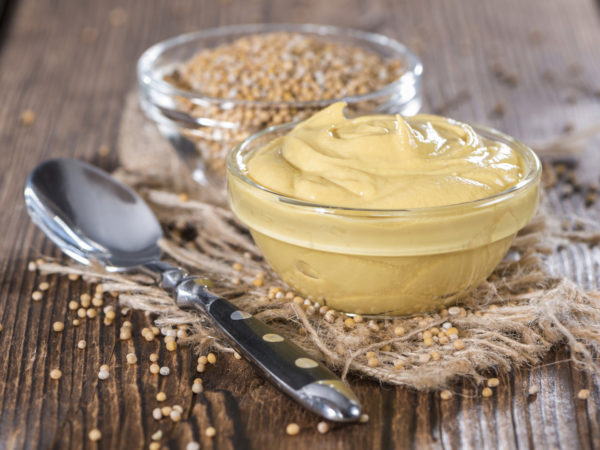 A cruciferous plant from the Brassica family (which includes Brussels sprouts, broccoli and cabbage), mustard leaves, oils and seeds have long been prized for both culinary and medicinal purposes. Of the estimated 40 species of mustard plant, three are used to make the condiment mustard:
Black mustard (Brassica nigra) is the most pungent; it originated in the Middle East.
White mustard (Brassica alba) is the mildest – it is used to make traditional American yellow mustard and originally came from the eastern Mediterranean.
Brown mustard (Brassica juncea), which is native to the foothills of the Himalayas, is used to make Dijon mustard.
Mustard seeds have a long history. Believed to be cultivated first in India around 3,000 BC, mustard is mentioned in Sanskrit writings going back 5,000 years. It also appears in the Bible. Today, mustard seed is a highly popular spice, traded around the world. It is grown in temperate climates in the U.S., Hungary, Great Britain, Canada and India.
Medicinally, mustard seeds and oils have been used orally and topically as a treatment for gastrointestinal and respiratory disorders; arthritis and other joint-related aches and pains; even as an appetite stimulant. High-quality human trials supporting the use of mustard or mustard oil for any health condition are scarce. But animal studies on lowering risks of gastrointestinal tract cancer have shown that the isothiocyanates in mustard appear to inhibit formation and growth of gastric cancer cells.
Nutritionally, mustard seeds are an excellent source of selenium and a very good source of manganese with small amounts of magnesium, and phosphorus. It even has trace amounts of omega-3 fatty acids.
For culinary use, mustard seeds are sold whole or as a ground powder; in combination with a vegetable oil; and in whole, fresh form. As a prepared condiment, mustard is well known and comes in different varieties, from mild yellow American mustard and the more pungent Dijon variety, to the whole grain version that includes mustard seeds. Any of these can be used on sandwiches, as a marinade or rub on fish or meats, and in salad dressings. Mustard powder can be added to soups and stews, and mustard oil can be used for sauté or on salads. Fresh mustard greens make a wonderful addition to salads and stir-frys – use sparingly at first, as their sharp flavor can be overwhelming to some palates.
Seeds and powders should be tightly sealed, stored in a cool dry place and replaced after two years. Mustard oil and prepared mustard should be refrigerated and will last anywhere from six months to two years. Fresh mustard greens should be selected when crisp and fresh; for storage, place them in a sealable plastic bag with as little air as possible and put in the refrigerator for up to four days.
Dr. Weil's take:
I enjoy making my own spreadable mustard at home in my food processor – freshly prepared mustard is an entirely new and wonderful taste experience for those who have had only the canned kind sold in stores. You can experiment with different ratios of the seeds, flavored vinegars, wines and champagnes, and even flat beer. I am also a great fan of mustard greens – like all greens, they are nutritionally dense and a wonderful source of antioxidants and fiber.
As a home health remedy, some herbalists suggest making a poultice with warm water and ground mustard seeds to help with chest congestion and achy joints.
---
Try mustard in these recipes: