Cooking With Legumes: Black-Eyed Peas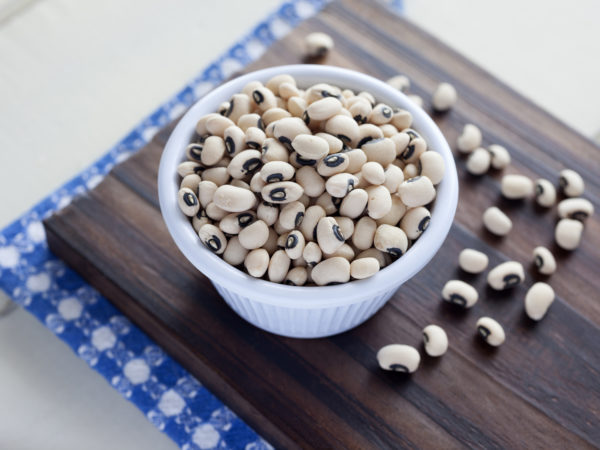 With their characteristic black spot, or "eye," on cream-colored skin, black-eyed peas are among the most recognizable legumes. Also known as black-eye Susans or cowpeas, they came to the Americas via slave traders from Africa. Traditionally enjoyed in the form of Hoppin' John – a southern United States specialty featuring black-eyed peas and rice – they are said to bring good luck when eaten on New Year's Day. The peas represent pennies or coins, and are served with collard greens to represent money and cornbread to represent gold.
These legumes contain a wealth of nutrients and are a delicious addition anytime of the year. Like most beans, black-eyed peas are loaded with vitamins and minerals such as potassium, calcium, magnesium, folate and iron. With 11 grams of fiber per one-cup (200-calorie) serving, black-eyed peas certainly give you your money's worth in terms of nutrition, if not future prosperity!
Cooking Time:
60 minutes
Liquid Per Cup Of Black-Eyed Peas:
3 cups
How To Cook Black-Eyed Peas:
Soaking is not essential for black-eyed peas, but cooking time can be shortened if they get a quick soak in hot water (as opposed to a longer one in cold water, like other beans). Place dried peas in a pot, cover with water, and bring to a boil for 2-3 minutes. Remove pot from heat and allow to stand for 60-90 minutes. Drain water and replace with fresh, cold water for cooking – or if you skipped the hot-soaking step, just rinse and add cold water. Place on stove and bring to a boil in a pot with a lid. Once boiling, reduce to a simmer, tilting the lid slightly to allow steam to escape, and leave to cook for up to an hour, or until tender.