The Lofty Legacy Of Trees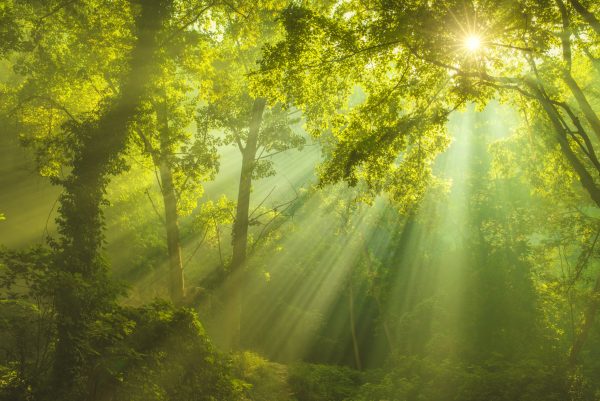 Reflection:
My earliest memory of respect and love for trees is riding my bike home on summer Tuesdays when our elementary school library was open, my bike basket brimming with books, lowering the kickstand so my bike would balance as I chose my first book, climbing our backyard green apple tree, arranging myself and being held in the notch between two limbs. Feeling safely hidden in the canopy of branches bursting with leaves that rustled  in the warm breeze carrying oxygen and the aroma of ripening apples, I'd open my book, and read until I was interrupted by a call for supper.
When I got a little older, I read A Tree Grows in Brooklyn, and cried at the poverty of Francie Nolan's immigrant family, and the symbol of the scrawny tree that grew in a pot on their fire escape, that survived no matter the paucity of sun, water, and soil.
Just this week I read Richard Powers' Pulitzer Prize- winning 2018 novel, The Overstory.. Nathaniel Rich wrote in The Atlantic, that Powers' novel takes on "the greatest existential crisis human civilization faces: the destruction of the natural conditions necessary for our own survival." In it, one of the novel's nine characters, Adam, answers the question about why Powers didn't write a scientific treatise or an activist pamphlet: "The best arguments in the world won't change a person's mind. The only thing that can do that is a good story." And The Overstory is just that; The language is elegant, the characters realistic and sympathetic; the ideas demanding and courageous. My life was changed, my soul awed, as I reconnected to the majesty of trees.
From The Overstory:
Chinese saying: "When is the best time to plant a tree? Twenty years ago."
The Chinese engineer smiles. "Good one. 'When is the next best time? Now.' Ah! Okay!"
Taking Action:
What stories do you have about your experiences with trees?
Write a one paragraph story about some of your tree experiences.
Consider doing something (about and for trees and us) that can make a difference.
Using our four paragraph template (context, story, learning – wisdom extracted from the story, and a blessing) write a legacy letter to someone in your life, perhaps someone younger than you, who may take trees for granted, even when they and we are in such grave danger.
May your legacy letter share what you love and may it open your reader's heart, mind, and spirit to the majesty and might of trees.
-Rachael Freed

Rachael Freed, LICSW, senior fellow, Earl E. Bakken Center for Spirituality & Healing, University of Minnesota, is the author of Your Legacy Matters, Women's Lives, Women's Legacies and Heartmates: A Guide for the Partner and Family of the Heart Patient. Rachael Freed [email protected] and www.life-legacies.com