Social Anxiety During The Holidays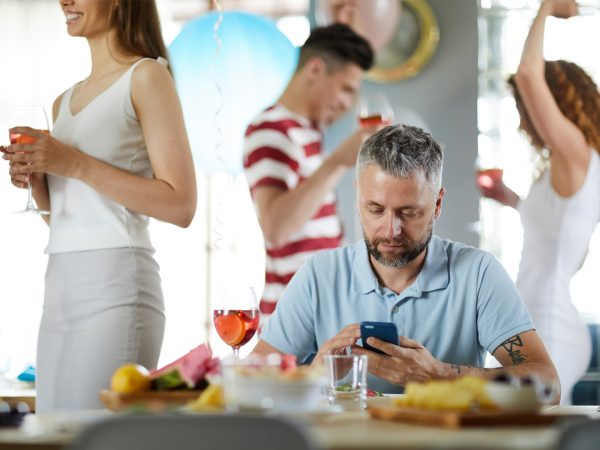 Social phobia, also known as social anxiety, is a disorder characterized by overwhelming anxiety and excessive self-consciousness in common social situations, and it affects millions of people. These feelings may be caused by chemical imbalances in the brain, or by factors such as low self-esteem, past rejection by peers, poor social skills, a history of public embarrassment, or even just shyness. Those with social phobia have a persistent, intense and chronic fear of being watched and judged by others and of being embarrassed or humiliated by their own actions.
The good news is that there are ways to treat social anxiety. Exposure therapy can slowly introduce you to the specific situations you fear. Hypnotherapy can give you a sense of what it feels like to be relaxed and open. To attempt to improve the anxiety you feel in social situations, consider the following:
Avoid coffee and other forms of caffeine as well as nicotine; these are stimulants that can heighten anxiety. Opt instead for herbal or calming teas.
Practice breathing exercises, an effective relaxation technique. Also consider the regular use of a guided meditation app.
Consider passionflower: a mild stress-relieving herb that can bring a sense of calmness without sedation. The recommended dosage is one dropperful of a tincture in a little warm water, or two capsules of the extract, up to four times a day as needed. If you need additional support, consider pairing it with 100mg l-theanine in capsule form. Derived from tea leaves, l-theanine can provide additional calming without sedation or habit forming side effects.
Take a B vitamin complex and magnesium, which are sometimes helpful in dealing with the symptoms of anxiety.
While limiting social interactions was the norm the past couple of years and may seem like best way to limit your social anxiety, we are social beings and isolation is something to be sure and prevent. Like most things in life, finding a healthy balance is key. Consider taking long walks in nature, reading a good book, and practicing some form of meditation to also support your best mental health.
Learn more: Addressing Anxiety Symptoms Naturally
Today's Health Topics
Editor's Pick
Health Focus
Ask Dr. Weil's Q&A