4 Simple Steps For Promoting Men's Health
Following a healthy lifestyle is important for all of us, and the general advice for healthy living applies to both men and women equally. As we age, however, gender plays a larger role in the health issues we experience, and how we address them. If you are a man, consider this your "to do" list or pass it on to a male loved one!
Lose The Extra Pounds. Research shows that, among men who are overweight to any degree, losing 5-10 percent of your body weight can significantly improve your health. Stored body fat acts as an endocrine-system organ, producing hormones that can promote inflammation, diabetes, osteoarthritis and heart-related health issues. Reduce your daily calories by 25 percent per day; start exercising regularly (ideally mixing in weight training and/or cardio intervals); eat an anti-inflammatory diet; and regularly practice stress-management techniques.
Keep Your Prostate Healthy. Prostatitis – inflammation of the prostate – can be a painful problem at any age, and the risk of prostate cancer increases about 10 percent per decade beginning at age 60. Get regular checkups, follow a healthy diet, get regular exercise and consume lycopene-rich foods, such as tomatoes and watermelon, to help reduce prostate risks. Be sure to also remain hydrated throughout the day to promote regular urine flow.
Stay Flexible. Men's joints can become less flexible with age, and this inflexibility can lead to falls, a major cause of disability for older people. Flexibility and balance training should be integral parts of your daily fitness routine – try practicing yoga or tai chi to help improve balance and flexibility, and make it a point to incorporate gentle stretching into your daily fitness routine, which can help maintain a full range of motion.
Be Social. Longevity studies looking at people living in areas where entire populations lead long, healthy lives demonstrate the health value of connecting with others. A good recipe for both quality and quantity involves connecting with uplifting and meaningful people in a purposeful way. Because men are generally less inclined to socialize than women, the tip is particularly important for males. Seek out groups participating in activities you enjoy.
Today's Health Topics
Editor's Pick
Health Focus
Ask Dr. Weil's Q&A
What Vitamins Should You Take?
When it comes to supplements and vitamins, knowing the right amount to take is important. Help prevent taking too much - or too little - with the
Weil Vitamin Advisor
. Visit today for your free supplement plan!
Advertisement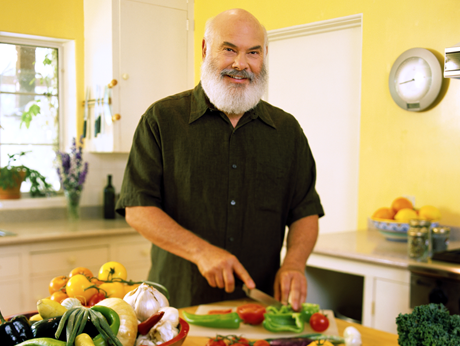 Related Weil Products
Everyone's dietary needs are different based on a number of factors including lifestyle, diet, medications and more. To find out
what vitamins you need
, take the
Weil Vitamin Advisor
. This 3-step questionnaire requires just minutes to complete, and generates a free, no-obligation vitamin and nutritional supplement recommendation that is personalized to meet your unique nutritional needs.
Get Started