Herbs
Turmeric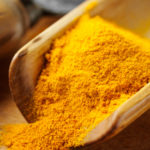 Curcuma longa
Curcumin is the active compound in turmeric and is a close relative of another common anti-inflammatory rhizome, ginger.
Related Weil Products
advertisement
Are You Getting The Herbs and Supplements You Need?

Everyone's dietary needs are different based on a number of factors including lifestyle, diet, medications and more. To find out which herbs and supplements are right for right for you, take the
Weil Vitamin Advisor
.
Used for:
Arthritis, tendinitis, bursitis; it acts as an antioxidant and anti-inflammatory agent
Available in:
As a culinary spice, in powdered form; as medicinal extract, in tablets or capsules. Labeled as standardized turmeric extract or curcumin.
Herb / drug interactions:
None known
Other safety concerns:
In rare instances, daily use over an extended period of time can cause stomach upset and/or heartburn. If pregnant, do not use without your doctor's approval. Do not use if you have gallstones or a bile duct dysfunction; however, curcumin, an active component of turmeric, can increase bile solubility and is recommended for the condition.
When buying:
Look for products standardized for 95% curcuminoids. For cooking, brightly colored and aromatic powder is best.
Dosage:
400 to 600 mg of extracts (tablets or capsules) three times per day or as directed on the product. Dried spice is not effective for treating conditions.
Child dosage:
Do not give to young children.