Herbs
Calendula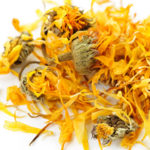 (Calendula officinalis)
Used for:
Skin irritations, rashes (including diaper rash), eczema, chapped skin or lips, acne, minor burns.
Related Weil Products
advertisement
Are You Getting The Herbs and Supplements You Need?

Everyone's dietary needs are different based on a number of factors including lifestyle, diet, medications and more. To find out which herbs and supplements are right for right for you, take the
Weil Vitamin Advisor
.
Available in:
Tinctures, oil, lotions, creams
Herb / drug interactions:
None known
Other safety concerns:
No known interactions
When buying:
Look for products with at least 10% extract of Calendula officinalis.
Dosage:
For a gentle, effective remedy, try washing the skin with a diluted solution of tincture. Apply ready-to-use calendula skin products or oil directly on irritated areas.
Child dosage:
Same as adults