What's Healthier: Fresh or Canned Cranberries?
Published: 11/17/2013
Learn More:
Lycopene
Related:
Vitamin Library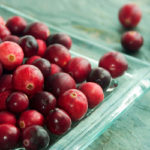 Cranberries – the basis of a traditional holiday side dish in North America – are more than just a tart and tasty meal accompaniment. A rich source of vitamin C and dietary fiber, cranberries are packed with healthy antioxidants and are used traditionally to help prevent urinary tract infections. Recent studies have also linked consumption of cranberries and cranberry juice with healthy cholesterol levels, improved gastrointestinal health, and a lowered risk of kidney stones – all good reasons to increase your intake of these healthy berries no matter what the season.
A typical can of store-bought cranberry sauce has about 21 grams of sugar, some of which is often in the form of high fructose corn syrup. A homemade, fresh, non-processed version allows you to manage the amount of sugar added. To begin, choose a bag of fresh cranberries that are deep red in color and firm to the touch. Then simply follow the instructions on the package. You can vary the amount of sugar; try dropping the quantity specified by 30 to 50 percent, and you may find you prefer the tart flavor. Add orange or lemon zest to ramp up the flavor. The smell is wonderful and the result is a homemade sauce that is sure to please.
Find out which vitamins are right for you.
Everyone's dietary needs are different based on a number of factors including lifestyle, diet, medications and more. To find out
what vitamins you need
, take the
Weil Vitamin Advisor
. This 3-step questionnaire requires just minutes to complete, and generates a free, no-obligation vitamin and nutritional supplement recommendation that is personalized to meet your unique nutritional needs.
Want Healthy Holiday Recipes?
Start your 14-day free trial of Dr. Weil on Healthy Aging! We have over 300 anti-inflammatory recipes, including seasonal ones perfect for your next holiday gathering. From Stuffed Acorn Squash to Pear Cranberry Sauce, see how tasty and healthy holiday meals can be. Visit today, and save 30% when you join!