The Benefits of Spices
Published: 01/29/2014
Learn More:
Calcium
Related:
Vitamin Library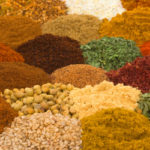 Herbs and spices have a prominent position on my Anti-Inflammatory Diet Pyramid because many of these culinary staples offer some health benefits:
They provide a host of healthful compounds that can both lower disease risk and alleviate symptoms of existing conditions.
Their flavor enhancement properties may inspire reluctant eaters to enjoy nourishing foods that might otherwise be avoided as "boring" or "bland."
To get the most out of your spices, consider the following:
Fresh is best for flavor. Even if you have no room for a vegetable garden, virtually every home or apartment has a window that can support a few pots of growing herbs. If you simply can't grow them, take advantage of the fresh herbs that are now widely available in the produce section of most supermarkets and natural food stores.
Dried herbs often suffer from muted flavors because the essential oils have volatized away. Two ways to encourage the flavor to return – crush with your fingers or a mortar and pestle just before cooking to release the oils that remain, or briefly sauté them with olive oil on low heat.
If you do use dried herbs and spices, store them in tightly covered containers away from light, heat and moisture. Don't sprinkle from a container into a steaming pot – the steam will enter the container and degrade the spice over time. Shake into your palm, away from the steam, before adding to the dish.
Generally speaking, dried, ground herbs and spices are typically good for up to six months.
Learn about the benefits of spices in my new article, "Cooking with Spices." We cover 31 different spices, from anise to wasabi, including the health and culinary benefits of each!
Find out which vitamins are right for you.
Everyone's dietary needs are different based on a number of factors including lifestyle, diet, medications and more. To find out
what vitamins you need
, take the
Weil Vitamin Advisor
. This 3-step questionnaire requires just minutes to complete, and generates a free, no-obligation vitamin and nutritional supplement recommendation that is personalized to meet your unique nutritional needs.
Are You Getting The Most Out Of Your Meals?
It's not just the ingredients you choose – the way you prepare them also matters. Certain cooking methods are better choices because they can maximize nutritional benefits. Dr. Weil on Healthy Aging can help you explore healthier cooking methods, in addition to our over 300 recipes that are anti-inflammatory in nature. Learn more about cooking for your health: start your two-week free trial and save 30% when you join.