New Recipe: Layered Frittata with Leeks & Tomatoes
Published: 09/13/2013
Learn More:
Can Smartphones Make Your Skin Sag?
Related:
General Health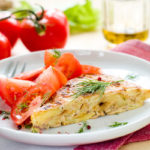 Frittatas, or baked omelets, are a delicious staple of Italian cuisine. In this delicious dish, the eggs bind flavorful ingredients with all the colors of the Italian flag: Swiss chard, cherry tomatoes, and Parmesan cheese.
Make this frittata recipe this weekend!
Find out which vitamins are right for you.
Everyone's dietary needs are different based on a number of factors including lifestyle, diet, medications and more. To find out
what vitamins you need
, take the
Weil Vitamin Advisor
. This 3-step questionnaire requires just minutes to complete, and generates a free, no-obligation vitamin and nutritional supplement recommendation that is personalized to meet your unique nutritional needs.
How Healthy is Your Breakfast?
Eating a healthy breakfast doesn't have to include giving up taste and satisfaction. Join Dr. Weil on Healthy Aging for hundreds of recipes, including Baked Apple-Cinnamon French Toast, Greek Omelet, Red Pepper & Goat Cheese Frittata, and Cranberry Muesli. They all follow Dr. Weil's anti-inflammatory diet guidelines, for a healthy and delicious start to your morning. Start your day out right – begin your 14-day free trial now, and save 30% when you join!