Is Holy Basil Healthy?
Published: 10/09/2013
Learn More:
Facts About Vitamin A
Related:
Vitamin Library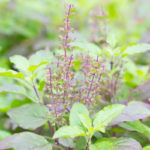 Holy basil or tulsi (Ocimum sanctum) is a sacred plant in India. It is a relative of our culinary basil but has a stronger, clove-like aroma and taste. Indians do not use it in cooking but do use it as medicine, mostly in the form of tea. It has been used traditionally to support:
Heart health
Optimal breathing
Joint health
Vision health
Skin health
Research in both animals and humans demonstrates lack of toxicity and a variety of benefits, including reducing inflammation and protecting the body and brain from harmful effects of stress.
It also has a positive influence on mood, and is safe to use with pharmaceutical antidepressants. My colleague Jim Nicolai, M.D., tells me he has great success with holy basil. Most of his patients have stress-related conditions, and holy basil is at the top of his list of plant-based strategies to target such issues. His personal experience is that it lengthens his "emotional fuse" and leaves him feeling calm and balanced in otherwise stressful situations. Use extracts standardized to two percent ursolic acid in 400 mg capsules. Dosage is two capsules, once or twice daily with food.
SpontaneousHappiness.com has more information on safe, natural ways to address stress and anxiety. Learn more – start your 10-day free trial and save 25% when you join.
Find out which vitamins are right for you.
Everyone's dietary needs are different based on a number of factors including lifestyle, diet, medications and more. To find out
what vitamins you need
, take the
Weil Vitamin Advisor
. This 3-step questionnaire requires just minutes to complete, and generates a free, no-obligation vitamin and nutritional supplement recommendation that is personalized to meet your unique nutritional needs.
How Much is Resilience Worth to You?
Resilience – the ability to respond with grace and courage to whatever comes your way, knowing you will easily return to an emotional balance point – can be yours. Let Spontaneous Happiness help you achieve the contentment that comes naturally with resilience. Our 8-week online plan provides the exclusive videos, tools and guides to help you become more resilient, all for just $2.50 per week. Learn more – start your 10-day free trial now and save 25% when you join!