Holiday Appetizers: 4 to Avoid
Published: 12/05/2013
Learn More:
Frustrated with the Food Police?
Related:
General Health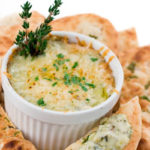 Yesterday we went over four appetizers that are healthy additions to those hard-to-handle cocktail plates. Today we serve up appetizer options to avoid this holiday season!
Dips. Skip the artificially flavored dips and opt for fresh salsa or hummus instead.
Cocktail franks and mini-meatballs. Neither is a good source of protein and both can pack a big serving of sodium. Choose peel-and-eat shrimp or deviled eggs instead.
Anything fried. From mini-eggrolls and quiche to chicken wings, deep-fried foods contain altered fats that are detrimental to the body. Several slices of organic cheese can satisfy a savory craving with far fewer calories.
Foie gras. Give it a pass and choose hummus instead – an animal-friendly source of soluble fiber.
Find out which vitamins are right for you.
Everyone's dietary needs are different based on a number of factors including lifestyle, diet, medications and more. To find out
what vitamins you need
, take the
Weil Vitamin Advisor
. This 3-step questionnaire requires just minutes to complete, and generates a free, no-obligation vitamin and nutritional supplement recommendation that is personalized to meet your unique nutritional needs.
Healthy Appetizer Recipes are Just a Click Away
Dr. Weil on Healthy Aging is your online guide to the Anti-Inflammatory Diet – including recipes for appetizers! From Apricot Canapes and Pinto Bean Dip and Smoked Salmon Spread, we have healthy recipes to satisfy your taste buds. Check out all 300 healthy recipes: Begin your 14-day free trial and save 30% when you join!